Fall Fishing Tips
Tap the autumn bite for panfish, bass, walleyes and more
Coast to coast, fall offers ample opportunities to catch a variety of gamefish, as cooling water temperatures spark hot bites for everything from catfish and crappies to bass, sunfish and walleyes.
To help you reap the autumn harvest, we offer the following tips to help you catch more fish and have more fun.
Bass Blitz
Bass of all stripes strap on the fall feedbag. Many anglers believe bass gorge themselves in preparation for winter. But biologists tell us the fish are simply reacting to invigorating declines in water temperature, and also taking advantage of seasonal concentrations of baitfish.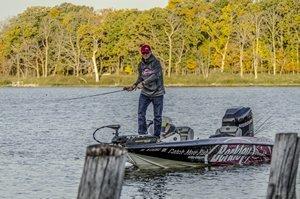 For example, as fall marches on, shad and other forage fish in many systems school in predictable places. When hungry bass move in for a meal, savvy anglers can enjoy epic action.
Classic reservoir hotspots where shad are the main course include coves, creek mouths, ledges, points and weedbeds or flats offering some type of woody cover. In natural lakes rich in minnows and small sunfish, weed edges and choke points that connect weedy backwaters with deeper water can be dynamite.
Rivers are often overlooked fall bass hotspots. Low water often forces fish to main-channel areas offering some type of modest current, but the presence of baitfish is key. Also look for current breaks ranging from boulders and logjams to manmade structure such as riprap or pilings.
On the tactical front, a number of presentations take fall bass. Crankbaits are lethal weapons for covering water and triggering strikes. To find fish fast, strain water in a variety of depths, starting shallow and working your way out.
Shallow-running baits like Berkley's Pitbull 5.5 are top options near shore. "It's perfect for fishing close to the bank, keeping the bait in contact with the bottom in four to six feet of water," says touring bass pro Justin Lucas.
Moving deeper, Lucas recommends slender shad imitations like Berkley's Bad Shad, which he says is a tremendous weapon for cold-water techniques in water temperatures below 55 degrees. "There are two sizes," he adds. "The number 5 runs 6½ to 7 feet, while the size 7 reaches 8 to 9 feet."
Berkley's iconic Flicker Shad is also an option. The larger sizes routinely run 14 to 17 feet on slim superlines such as 10/4 FireLine, and are perfect for plying deep weedlines, structure and timber.
Fall 'Eyes
Conventional fall walleye wisdom calls for fishing classic structural sweet spots such as steep main-lake breaks and rocky points. While these areas can indeed be goldmines, shallow weeds often hold untapped options other anglers miss.
As water temperatures fall through the 50s and beyond, shoreline weedbeds comprised of hearty stands of cabbage and northern milfoil that are still green and thriving attract oodles of baitfish including juvenile panfish, yellow perch and bullheads. Depending on the lake, productive depths range from 6 to 15 feet, and having deep-water refuges nearby is a definite plus.
Artificial softbaits are great choices for plying weed edges and open pockets in thick cover, where hungry walleyes wait to ambush passing prey. Top options include a 3-inch Gulp! Minnow Grub, 3-inch PowerBait Pro Grub, 3½-inch Havoc Grass Pig Jr., 3½- to 4-inch PowerBait Ripple Shad, or 4-inch PowerBait Split Belly Swimbait on a ¼- to 3/8-ounce jig head or Berkley Fusion19 Weighted EWG hook.
Cast to edges and openings, let the bait fall to bottom, then begin a steady retrieve spiced up with periodic lift-fall theatrics, which often push tentative 'eyes past the breaking point.
Another option is slow-trolling baits along weed edges, keeping the rig just off bottom. It's worth noting, however, that low light and wave action can draw aggressive walleyes high in the water column, so be prepared to cover a variety of depths.
Be forewarned that toothy northern pike are common bonus catches in fall weedbeds. Adding an abrasion-resistant leader of Berkley Trilene 100% Fluorocarbon helps reduce bite-offs and missed opportunities.
Slab Fest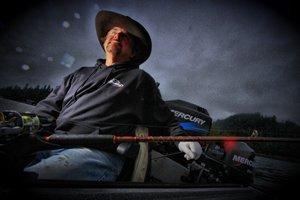 If panfish are your forte, follow the seasonal migration from the outer edges of deep weedbeds onto nearby drop-offs and finally into deep holes, often in 25 to 35 feet of water.
Top presentations include small jigs in the 1/16- to 1/8-ounce class, dressed with a dainty, scented softbait such as a 1-inch Gulp! Fish Fry or numerous other Gulp! and PowerBait options. When the fish school in deep water, add small jigging spoons to your repertoire, tipped with Gulp! Maggots or Ice Waxies.
Cool Cats
Legendary catman Phil King says throughout the fall, schools of hungry, 5- to 10-pound channel catfish converge in shallow, current-swept shoals to feed at night.
To catch them, he fishes a Berkley DipWorm slathered in PowerBait PowerDip on a slip-sinker or three-way weighting system. For ease of use after dark, he favors stout, luminescent Berkley Glowstik cat rods spooled with 40-pound-test Berkley Trilene Big Cat line.
King notes that soaking your bait in high-percentage hotspots such as hard-bottomed areas at the mouths of incoming creeks, along with gravel shoals above islands, boosts your odds of windmilling catfish all night long.
Whether you target these ghosts in the darkness or any of the many other gamefish that are on the bite throughout autumn, putting these tips into practice can help make this your best fall yet.