Why Bother With Live Bait?
Artificial softbaits are hassle-free, fish-catching alternatives
Live bait has long been a fixture of the fishing scene. Since the sport's Dark Ages, countless fish have fallen for the inherent attraction of minnows, worms, crickets and other appealing creatures.
But live bait has its downsides. "From the initial procurement to care and presentation, natural baits are a hassle," says Berkley chemist and fish expert John Prochnow. He notes that such inconveniences would be worth the trouble, were it not for easy-to-use, fish-catching artificial options such as Berkley Gulp! and Gulp! Alive! softbaits."
"They eliminate the hassle factor," he continues. "Artificial baits are always ready to go. You don't have to drive miles out of your way to find a bait shop or spend time digging worms before heading for the lake. Gulp! baits travel well, with no risk of spreading diseases, exotic species or running afoul of bait-transport restrictions. And in between trips, they're easy to store. Gulp! never goes belly up, gets fuzzy or stinks up your refrigerator."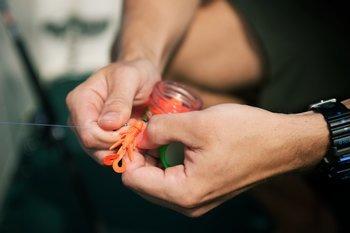 Most importantly, Gulp! catches fish. "Whether you're after bass, bluegills, walleyes or redfish, Gulp! consistently outperforms live bait in most conditions for a variety of reasons," Prochnow explains.
Its powers of attraction are a huge draw. Made of sponge-like, water-based resins that flood the surrounding area with scientifically proven, water-soluble scents, Gulp! products call fish from a distance and trigger instinctive strikes. "Plus, live bait just doesn't have the durability," Prochnow adds. "Gulp! stays on the hook better, there are more ways to rig it, and you can choose from far more variations in color, shape and action."
Not surprisingly, many professional anglers rely on such baits when their livelihood is on the line. For example, top touring walleye pro Keith Kavajecz works a variety of Gulp! and Gulp! Alive! baits into the mix when competing at events all season.
On Lake Michigan's legendary Green Bay, for example, he often forgoes traditional live-bait trolling techniques, opting instead to ply fish-holding structure with 3/8-ounce jigs tipped with 4-inch Gulp! Alive! Minnows. "I like casting to 15 to 30 feet of water along the edges of reefs, shoreline points and other breaklines," he says. "Popping the jig off bottom and letting it glide back to you is a great way to catch big numbers of walleyes in the 18- to 24-inch range, with a decent shot at trophies topping 28 to 30 inches."
When trolling, Kavajecz often runs a Slow Death-style rig tipped with a Gulp! Fry or Killer Crawler. He says these artificial baits excel at triggering strikes, yet don't fall apart when pecked by yellow perch or panfish.
On the bass front, live bait is banned from many competitive events. But recreational bass fans still use leeches, shiners and other natural offerings for a number of presentations.
When chasing crappies, Tuma often rigs a 1½-inch Gulp! Jigging Grub or 2½-inch Gulp! Minnow on a light jig, no heavier than 1/16 ounce. "Depending on whether you're positioned over a school of crappies or targeting fish spread out along a weed edge or breakline, you can either fish this combo vertically or cast and retrieve it," he says.
Tuma adds that when supersized crappies roam close to bottom on main-lake basins in summer, he rigs a 2½-inch Gulp! Minnow on a three-way rig to search for scattered slabs. "Slow-trolling .8 to 1 mph is a great way to contact fish," he says. "Use a bell sinker heavy enough to maintain occasional bottom contact, while keeping your line at a 45-degree angle. When you feel a tick, set the hook."
In the end, softbaits are stellar options year-round for a wide variety of gamefish. Our four experts agree that these modern marvels are just the ticket to help anglers everywhere catch more fish on every trip, while avoiding the hassles of live bait.