Winning Attitudes
How top pros set their minds to tournament success
Tournament fans and participants alike know there's far more to out-fishing the competition than simply showing up on game day and hoping for the best. Rocketing up the leaderboard requires a winning attitude, built step by step during the weeks and months leading up to an event.
"For me, the process begins with intensive research that gets me into the zone and ready to execute once I get to the lake," says iconic bassman and top touring pro Mike "Ike" Iaconelli.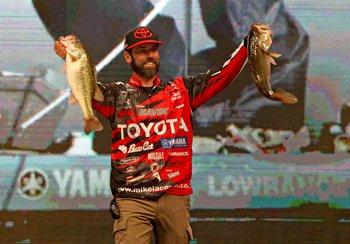 It starts with exhaustive investigations, conducted mostly online, for intel on the fishery where he'll do battle. As these searches turn up data on the system's bass, forage base, top fishing patterns, key areas and seasonal trends, Iaconelli compulsively compiles the findings in a notebook—often breaking it down into categories headed by buzzwords and grouped according to commonalities.
Next, he tackles mapping. While paper charts once provided the bulk of his cartography, today he leans on digital assets including aerial photos and internet map tools and services. "I want to physically see where I'm going and get the lay of the land before I hit the ramp," he explains.
Step three entails blending research with mapping to highlight seasonal patterns that will likely be in play during the tournament. "This helps me break huge fisheries into manageable sections," he says. When prepping for an event on the Sabine River out of Orange, Texas, in late March, for example, Iaconelli keyed on dead-end canals, backwater ponds and other sheltered areas that would attract prespawn bass.
"After I do all that, I prepare my tackle," he continues. Heading to the Sabine derby, for example, Ike armed himself with deadly weapons including a variety of Berkley Havoc softbaits. "I pack a selection of baits to cover different scenarios," he says, noting that the straight-and-subtle Havoc Bottom Hopper, Flat Dawg and Back Slide shine in cool water temperatures, while more active baits including the ribbon-tailed Juice Worm, high-action Devil Spear and lizard-like Boss Dog excel in warmer conditions.
Thanks to such extensive preparation, Iaconelli descends on the tournament waters with a game plan to help guide his practice efforts, though he's quick to note the importance of keeping an open mind. "Research puts you in the right areas," he says. "You still need to fish the moment and let the bass tell you what to do."
Iaconelli's practice typically focuses on fine-tuning, in terms of both his fishing areas and presentations. "Bass relate to change, whether it's water clarity, temperature, current or other factors, so I look for areas of change within the spots I plan to fish," he says. "I also watch my electronics for drop-offs, rises and pieces of cover."
He also fancasts crankbaits, jigs and Carolina-rigged softbaits to identify bottom content changes. Coupled with variations in depth, water color or cover, such transitions can be the icing on the locational cake. "Best-case scenario, I make 14 casts over soft bottom, feel rocks on the 15th cast and set the hook into a keeper," he says. "If I catch another bass on that hard-bottomed sweet spot, I set a waypoint, mark it in my notebook and leave the rest of the fish alone."
Ultimately, Ike likes to enter competition with a trio of separate patterns at his disposal. "Even then," he adds, "Your ability to adapt on the fly can save the day if these plans fizzle."
'Eyes On History
On the walleye front, reigning world champion Korey Sprengel follows a similar routine to set his mind on success. "I spend all winter doing my homework and gearing up," he says. Like Iaconelli, he leans heavily on internet research to size up a fishery, going so far as to scrutinize photos of fish taken from tournament waters, looking for trends in lure styles and colors.
"I really pay attention to fishing reports," he adds. "Not current ones, though. Looking back three or four years helps me truly understand what happens in a fishery year after year. It also helps me figure out fish migrations, so I can stay one step ahead of the competition when the walleyes move during an event."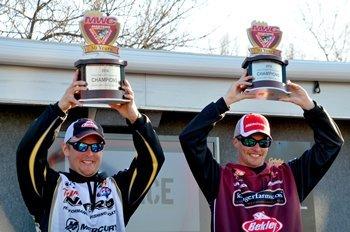 Sprengel also spends countless hours on the couch, but not in idle channel surfing. "I sit with my sonar-chartplotter beside me, looking at productive areas my research has identified," he says. "Then I try to find similar-looking yet overlooked spots that should also hold fish, but receive little or no fishing pressure."
When planning which presentations to pack, he heavily factors forage and time of year into the equation. "For a spring tournament on the Detroit River, for example, I'd prep for a vertical jigging bite with plenty of 4-inch Berkley Gulp! Minnows and 4-inch Gulp! Crawlers, in colors that mimic the river's baitfish," he says.
A huge believer in the power of attractants, Sprengel sweetens presentations with flavors tailored to a fishery's forage base. "I'm a big fan of Gulp! Marinade," he says. "It lets me change a bait's scent to match what walleyes are eating. I can also mix different Marinades such as garlic, minnow and shad together to create custom blends perfect for the conditions at hand."
Sprengel also credits complete organization for banning frustration and fueling consistent catches during competition. For example, he carries PowerBait and Gulp! softbaits in a Berkley Max Capacity Notebook, which allows him to store and manage up to 24 standard bait bags simultaneously.
"Everything is organized and easy to find, which is ultimately one of the biggest keys to tournament success," he says.
From relentless research months ahead of an event to running a tight ship and keeping an open mind on the water, these tips from Iaconelli and Sprengel can help you catch more fish on every trip, whether you're fighting for a world title or simply after a few fresh fillets for the table.