2012 Berkley Recruitment / Retention Awards Announced - Indiana
Indiana Club Wins $1500 in Tackle
COLUMBIA, SC — The Berkley Conservation Institute (BCI), part of Berkley Fishing, announced the 2012 BCI Recruitment/Retention Awards during ceremonies at the 2013 Bassmaster Classic in Tulsa, Okla. John Doerr, Pure Fishing CEO, presented the awards with B.A.S.S. Conservation National Director Noreen Clough accepting the awards on behalf of the winning B.A.S.S. Nation organizations.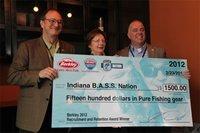 Winner of the 2012 Berkley Recruitment/Retention Award was won by the Indiana B.A.S.S. Nation for their continual multi-year participation in the Hoosier Outdoor Experience which provides opportunities to teach numerous kids how to fish, what conservation is all about, the philosophy of catch-and-release in a short period of time. The club also is very active in conservation projects.
"The Hoosier Outdoor Experience is a recipe for wonderful youth education that all clubs can mirror," said Jim Martin, BCI Conservation Director. "They have a one-day program for selected elementary school students followed by two days of free activities for the general public which included a continual stream of young kids, many who had never fished before. They learned how to bait a hook, cast, and many learned how to take a fish off the hook."
An Honorable Mention recognition was give for Recruitment/Retention to the Branson, MO, Bassmasters and TRACETS. Their work with the Corps of Engineers and the Table Rock and Ozarks Rivers Heritage organizations resulted in a state-of-the-art Handicap Fishing Facility - a 7000 sq foot floating dock powered by solar power. Once completed, this "green project" will help recruit special-needs anglers and will be open to increased public fishing.
Also receiving Honorable Mention was the Waupaca B.A.S.S. Club, New London, Wisconsin. This club restored two boat landings on a small lake in their county that cannot accommodate bass tournaments but is popular for the fishing by the general public. The landings were in very poor shape and almost hazardous to launch any type of boat.
Recruitment and Retention awards are designed to recognize the clubs that promote the idea of gaining new anglers into the sport or for advancing the sport of fishing to encourage anglers to fish more.