Dr. Ian Cowx Earns Fisheries Science Award
We are pleased to present, Professor Ian Cowx, the newest of the Conservation Leaders Advisory Team (CLAT), to the Pure Fishing community. Our first international member, Professor Cowx is both a professor and the director of the University of Hull's International Fisheries Institute in Hull, England.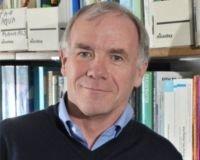 Throughout his illustrious career, professor Cowx has been instrumental in promoting the importance of freshwater fisheries through his research, dedication to education, influence on management, and passion. A few of his most notable accomplishments include: training over 30 Ph.D. and more than 300 M.Sc. students from more than 80 countries, leading more than 96 research and consultancy projects in Europe, Africa, and Asia, authoring 14 books, and publishing more than 180 peer-reviewed journal articles.
Most recently, professor Cowx was awarded the prestigious International Fisheries Science Prize at the World Fisheries Congress in Edinburgh, Scotland in May. This award, supported by the Carl R. Sullivan Endowment Fund and jointly administered by the International Fisheries Section of the American Fisheries Society and the World Council of Fisheries Societies, is bestowed upon an individual demonstrating exemplary contributions to fisheries science or conservation.
Owing to these contributions in December of this year, Dr. Cowx was awarded an honorary doctorate of science Michigan State University, where another CLAT member, Dr. William Taylor, hails from.
We are looking forward to our future interactions and projects with Professor Cowx and are sure that his involvement with our group will help to enhance our commitment to conservation and the well-being of our fisheries.