The Future of Fishing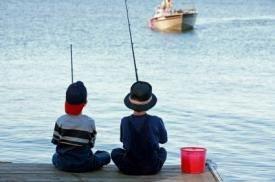 Angling Recruitment and Retention
We strongly believe in introducing new anglers to the delight of fishing. We support the Angler's Legacy Program of the Recreational Boating and Fishing Foundation (takemefishing.org). We recognize outstanding angler recruitment fishing projects by members of the BASS Nation Federation and other partners. Pure Fishing is a strong supporter of the Fishing Passport Program of the California Department of Fish and Game.
Angler Access
Berkley is working with the sportsmen's and environmental organizations in the TRCP to support the Open Fields Legislation. In 2008, Open Fields was included in the Farm Bill for the first time ever. This program will begin to provide federal aid to participating states in opening up new access to cooperating private lands. Many localized battles to maintain or expand fishing access are being led by local sportsmen's groups. BCI intends to help these groups advocate effectively for maintaining access. An example is the Cape Hattaras National Seashore, where the National Park Service is threatening to close beach access to protect shorebirds and sea turtles. We are helping the Outer Banks Protection Association fight to find the right balance between wildlife conservation and fishing access at Cape Hattaras.
Another example is at Biscayne National Park where current proposals include an excessively large no-fishing area. This will strongly damage fishing opportunity in this park that is so close to the greater Miami, Florida area. BCI will continue to work with partners to strongly advocate that the NPS review and reduce this closure.
In 2012/13 a new fight has emerged on closing important fishing grounds in the Biscayne Bay National Park and fishing interests are fighting to find less restrictive ways to maintain high quality fish stocks and fishing in the park.
Budget Cuts/Deficit Reduction
The political debates leading up to the 2012 Presidential election has highlighted getting the budget deficit and the national debt under control. BCI believes that such efforts must be broad based and not concentrated on a few discretionary budget items that will devastate conservation without really addressing the deficit. Budget cutbacks must be carefully crafted to eliminate wasteful programs/projects without disproportionately destroying conservation programs that have long histories of supporting jobs, local economies and mobilizing conservation partners. We support an effort known as America's Voice for Conservation, Recreation and Historic Preservation.
In addition to working on these priority issues, we partner with many conservation organizations on emerging issues throughout the year.