BERKLEY® FireLine® Ultra 8
There's no denying that the new thermally fused BERKLEY® FireLine® Ultra 8 is the toughest FireLine on the market. With this line, anglers will be able to tighten the drag without worrying about the line breaking. This reassurance will help anglers of all levels build the confidence to cast into structure where the bigger fish like to hide. MSRP $19.99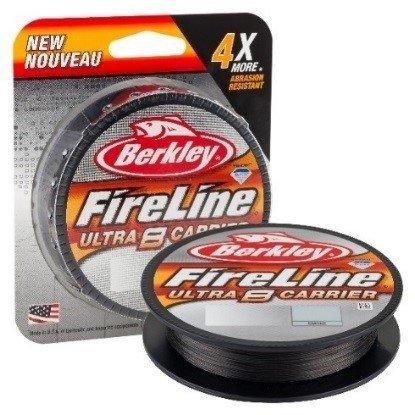 New thermally fused BERKLEY® FireLine® Ultra 8 changes fishing line landscape forever Fishing line with a higher PIC count and 8-carrier braiding
COLUMBIA, SC - (July 12, 2017) There's no denying that the new thermally fused BERKLEY® FireLine® Ultra 8 is the toughest FireLine on the market. With this line, anglers will be able to tighten the drag without worrying about the line breaking. This reassurance will help anglers of all levels build the confidence to cast into structure where the bigger fish like to hide.
Berkley has crafted the best FireLine to date by applying the FireLine process to fuse an 8-carrier Dyneema® fiber braid. The Ultra 8 is also four times more abrasion-resistant than the original FireLine.
Available in two colors (smoke and crystal), the Ultra 8's higher PIC count and 8-carrier braiding delivers a super smooth FireLine that can hold up to 30 lbs. Berkley FireLine Ultra 8 MSRP starts at $19.99 for 125 yards.
About Pure Fishing, Inc.
Pure Fishing, Inc. is a leading global provider of fishing tackle, lures, rods and reels with a portfolio of brands that includes Abu Garcia®, All Star®, Berkley®, Chub™, Fenwick®, Gulp!®, Hardy & Greys™, Hodgman®, Johnson™, Mitchell®, PENN®, Pflueger®, Sébile®, Shakespeare®, SpiderWire®, Stren®, Trilene® and Ugly Stik®. Pure Fishing, Inc. operates in 22 countries with a dedicated workforce conversant in 28 languages. Pure Fishing, Inc., a part of Newell Brands' strong portfolio of well-known brands, is a leader in developing outdoor and active lifestyle products. Additional information can be found at www.purefishing.com.
About Newell Brands
Newell Brands (NYSE: NWL) is a leading global consumer goods company with a strong portfolio of well-known brands, including Paper Mate®, Sharpie®, Dymo®, EXPO®, Parker®, Elmer's®, Coleman®, Jostens®, Marmot®, Rawlings®, Irwin®, Lenox®, Oster®, Sunbeam®, FoodSaver®, Mr. Coffee®, Rubbermaid Commercial Products®, Graco®, Baby Jogger®, NUK®, Calphalon®, Rubbermaid®, Contigo®, First Alert®, Waddington and Yankee Candle®. Driven by a sharp focus on the consumer, leading investment in innovation and brands, and a performance-driven culture, Newell Brands helps consumers achieve more where they live, learn, work and play. Additional information about Newell Brands is available on the company's website, www.newellbrands.com.