BERKLEY® PowerBait® MaxScent The General
Adding to the company's wide product portfolio in bait, Berkley introduces its PowerBait® MaxScent The General. This latest innovation, PowerBait MaxScent, showcases a revolutionary new material that releases a super-charged scent field to help beginner and professional anglers catch 45 percent more fish.* MSRP $6.99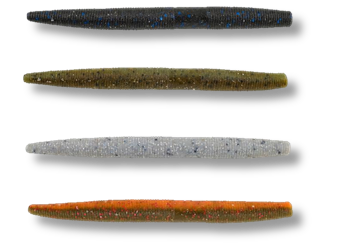 New Bait Attracts Fish in Ways Never Before Seen BERKLEY® PowerBait® MaxScent The General now 45% more effective than the original PowerBait
COLUMBIA, SC - (July 12, 2017) Adding to the company's wide product portfolio in bait, Berkley® introduces its PowerBait® MaxScent The General. This latest innovation, PowerBait MaxScent, showcases a revolutionary new material that releases a super-charged scent field to help beginner and professional anglers catch 45 percent more fish.*
The General is designed with the right action, look and feel to attract fish in a way never before seen and reflects Berkley's commitment to provide anglers with the best bait possible. Designed with the help of the world's top bass anglers, The General is five inches in length and features classic slow falling stick bait wiggle action to simulate a lifelike appearance.
This innovative bait is tough enough to hold up to strike after strike. The General also pairs well with Fusion19™ Weedless Wide Gap Hooks and is well-matched for finesse presentations with ultra-realistic texture and natural matte colors to fool the hardest to catch fish.
Available in 10 forage-inspired colors, the MSRP is $6.99 for a package of eight.
*Results represent an average based on controlled field testing across multiple species. Results may vary.
About Pure Fishing, Inc.
Pure Fishing, Inc. is a leading global provider of fishing tackle, lures, rods and reels with a portfolio of brands that includes Abu Garcia®, All Star®, Berkley®, Chub™, Fenwick®, Gulp!®, Hardy & Greys™, Hodgman®, Johnson™, Mitchell®, PENN®, Pflueger®, Sébile®, Shakespeare®, SpiderWire®, Stren®, Trilene® and Ugly Stik®. Pure Fishing, Inc. operates in 22 countries with a dedicated workforce conversant in 28 languages. Pure Fishing, Inc., a part of Newell Brands' strong portfolio of well-known brands, is a leader in developing outdoor and active lifestyle products. Additional information can be found at www.purefishing.com.
About Newell Brands
Newell Brands (NYSE: NWL) is a leading global consumer goods company with a strong portfolio of well-known brands, including Paper Mate®, Sharpie®, Dymo®, EXPO®, Parker®, Elmer's®, Coleman®, Jostens®, Marmot®, Rawlings®, Irwin®, Lenox®, Oster®, Sunbeam®, FoodSaver®, Mr. Coffee®, Rubbermaid Commercial Products®, Graco®, Baby Jogger®, NUK®, Calphalon®, Rubbermaid®, Contigo®, First Alert®, Waddington and Yankee Candle®. Driven by a sharp focus on the consumer, leading investment in innovation and brands, and a performance-driven culture, Newell Brands helps consumers achieve more where they live, learn, work and play. Additional information about Newell Brands is available on the company's website, www.newellbrands.com.