Berkley Pro Sprengel Wins NWT Championship Event
Wins event on Lake Winnebago with 43.69 pounds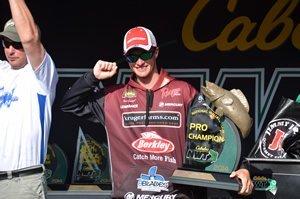 In the walleye world, there is no bigger event than the Cabela's National Walleye Tour (NWT) Championship that made a stopped in Oshkosh, Wis., this past weekend. Young Berkley pro Korey Sprengel showed up in a big way, winning his first NWT Championship title with a final two-day weight of 43.69 pounds. With bonuses installed, the Wisconsin native tallied an $84,424 payout.
"The gear I used was critical for this win," said Sprengel. "I was fishing some pretty snaggy stuff so the line was key. I used 10-pound Berkley FireLine Flame Green because I needed to see those subtle bites. The baits used were a one-two punch with a Berkley Flicker Shad size 7 with the bigger bites coming off a Berkley PowerBait blue fleck/pearl Rib Worm. I tied the Rib Worm on an 1/8th ounce jig and casted it out and let it sink to the bottom. Once it was on the bottom, I just shook the rod tip and the big walleye would just pick it up and go with it."
The win isn't something abnormal for the pro. Even at a young age, the Berkley pro has enjoyed success on a few different walleye circuits.
"Winning never gets old, but this one means the world," said Sprengel. "The weather conditions really can play tricks on a fishing area. It seemed like a grind with high winds and bites few and far between. The area I focused on didn't get blown out, but the real danger was what lies below the surface. The rocks and junk down there are pretty gnarly so I am thankful for tough lines like Berkley FireLine because I also have the ability to feel the most subtle bites and when I hook up I don't worry about line giving out."
A testament to the talent of the Berkley pros made waves during the event was 3rd place Mark Courts of Harris, Minn., 4th place Kevin McQuoid of Isle, Minn., 5th place Ross Grothe of Northfield, Minn., 7th place Tommy Skarlis of Waukon, Iowa, and 8th place Robert Cardenas of Gem Lake, Minn.