Berkley Pros Sprengel and Navis Win Walleye Circuit Championship
Wisconsin team dominates Devils Lake, ND
To say Korey Sprengel and Derek Navis are a dominant force on the professional walleye circuits would be a gross understatement. The Berkley duo capped a dynamic season in style by winning the Cabela's Masters Walleye Circuit Championship on Devils Lake, ND this past weekend.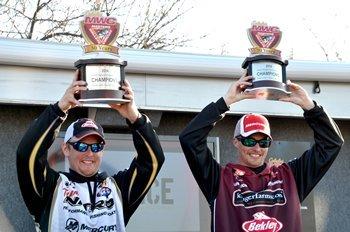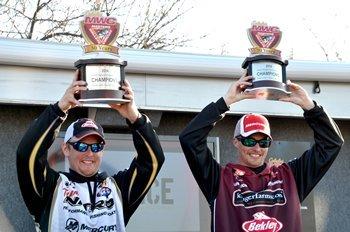 With a three-day weight of 83 pounds, 13 ounces, Sprengel and Navis notched their second consecutive MWC Championships. Plus, Sprengel has had an incredible season on the NWT Trail.
With the win, Sprengel notches his seventh major victory in the past four years. The young 26-year old pro didn't reach into a bag of tricks to pull off the victory. He stuck to what he knows – the Berkley Flicker Shad.
"It has been an unbelievable ride," said Sprengel. "I hope it continues. I really don't see it stopping unless Berkley stops producing the Flicker Shad. That bait has really been a big player over the past four years. We trolled using lead core line and Berkley 20-pound FireLine, but the Size 7 Flicker Shad did the trick. The lighter colors like Mouse or Purple Tiger worked later in the tournament while early on it was all Firetiger and Chartreuse Pearl."
Given the area Sprengel and Navis fished 20-pound FireLine paired with lead core line was crucial.
"The area we were fishing was really horrible for line," said Sprengel. "Most the lines I've used in these types of situations snap easily. FireLine maintained its dexterity throughout the event. It is just one of those lines I can take any where because it simply won't fail."
The other key to this win was boat control. The final day the pair battled five-to-six foot waves. Sprengel and Navis utilized every ounce of Mercury power to keep a line along the riprap to put their Flicker Shads in front of big walleye.
Going into the championship, Sprengel and Navis knew it was going to be a tough event.
"I have never lead a tournament on the first day and won the whole event," said Sprengel. "I've been able to lose a few after leading, but when I am down in big events I never lose focus. We stuck to what we prepared to do and kept grinding."
This event marked the final tournament of the 2014 season, but both anglers will be back in 2015 looking to make it number three in a row.