BERKLEY® Snap Jig
Berkley® introduces its latest innovation – the Berkley Snap Jig. This new product is the perfect addition to anglers' tackle boxes. The lifelike action and intricate design are just two reasons fishing enthusiasts of all levels will love the Snap Jig. MSRP $5.99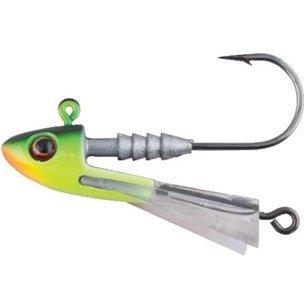 The new Berkley® Snap Jig makes novice anglers good and avid anglers great. The jig that pairs perfectly with your favorite soft plastics
COLUMBIA, SC - (July 12, 2017) Berkley® introduces its latest innovation – the Berkley Snap Jig. This new product is the perfect addition to anglers' tackle boxes. The lifelike action and intricate design are just two reasons fishing enthusiasts of all levels will love the Snap Jig
The Snap Jig can be fished both vertically over structure and for suspended fish in open water and ice, or cast and retrieve for side to side and backward and forward dynamic darting action. Another benefit is that the Snap Jig naturally falls on the glide and is versatile in action.
A new feature that anglers will love is the extended bait keeper. The innovative profile design allows anglers to easily slide bait onto the jig, while the ridges secure the hold. This will help reassure both novices and professionals that their bait won't be lost.
The Berkley Snap Jig is a versatile action jig head that pairs with your favorite soft plastics and has a unique secondary eye for stinger hooks, treble hooks or blades. The jig is an ideal pairing for the 4" PowerBait MaxScent Flatnose Minnow, 3" PowerBait Pro Twitch Tail Minnow or 3" Gulp! Fry. The Berkley Snap Jig MSRP is $5.99 for a package of four.
About Pure Fishing, Inc.
Pure Fishing, Inc. is a leading global provider of fishing tackle, lures, rods and reels with a portfolio of brands that includes Abu Garcia®, All Star®, Berkley®, Chub™, Fenwick®, Gulp!®, Hardy & Greys™, Hodgman®, Johnson™, Mitchell®, PENN®, Pflueger®, Sébile®, Shakespeare®, SpiderWire®, Stren®, Trilene® and Ugly Stik®. Pure Fishing, Inc. operates in 22 countries with a dedicated workforce conversant in 28 languages. Pure Fishing, Inc., a part of Newell Brands' strong portfolio of well-known brands, is a leader in developing outdoor and active lifestyle products. Additional information can be found at www.purefishing.com.
About Newell Brands
Newell Brands (NYSE: NWL) is a leading global consumer goods company with a strong portfolio of well-known brands, including Paper Mate®, Sharpie®, Dymo®, EXPO®, Parker®, Elmer's®, Coleman®, Jostens®, Marmot®, Rawlings®, Irwin®, Lenox®, Oster®, Sunbeam®, FoodSaver®, Mr. Coffee®, Rubbermaid Commercial Products®, Graco®, Baby Jogger®, NUK®, Calphalon®, Rubbermaid®, Contigo®, First Alert®, Waddington and Yankee Candle®. Driven by a sharp focus on the consumer, leading investment in innovation and brands, and a performance-driven culture, Newell Brands helps consumers achieve more where they live, learn, work and play. Additional information about Newell Brands is available on the company's website, www.newellbrands.com.