Heiser, Morris Win Cabela's Masters Walleye Circuit Devils Lake Qualifier
Berkley pros best field with two-day total of 44 pounds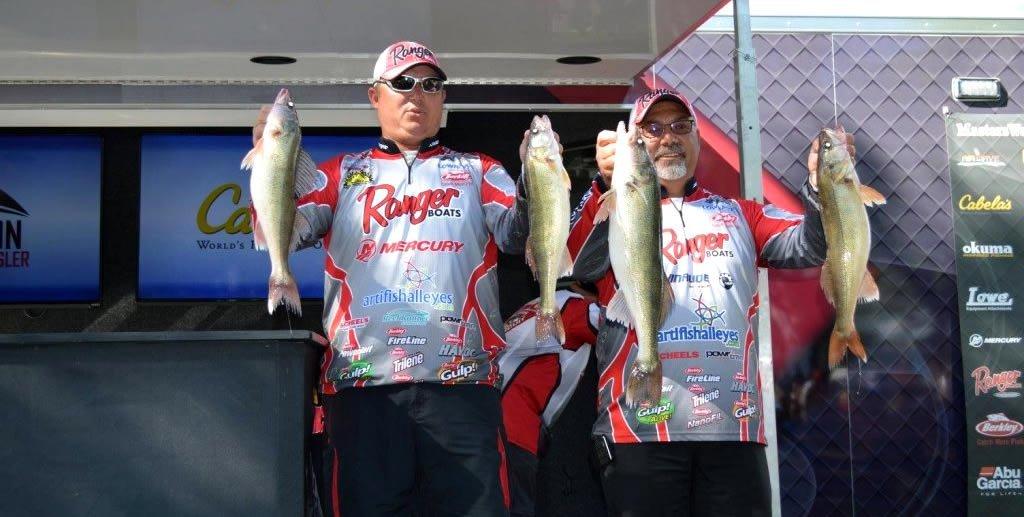 Troy Morris and Corey Heiser, of Fargo, N.D., brought in a two-day total of 44 pounds to the win the Cabela's Masters Walleye Circuit's regular season qualifier presented by Berkley on Devils Lake this past weekend.
The win marked the pair's second straight Cabela's MWC Devils Lake qualifier victory. The win was worth $19,433 including $11,650 in first-place cash and $3,770 in cash from the option pot, plus the $1,000 Ranger Cup bonus, $500 Lowrance Electronics contingency, $813 from the MWC Big Fish Pot, a $500 Air Wave gift certificate and $200 reel bonus. They also won a $1,000 Cabela's National Team Championship Prize Package including paid entry into the 2017 NTC, travel stipend, team jerseys and plaques.
Their presentation included ripping the jigs sharply upward, then allowing them to swim and flutter back down. They used 14-pound-test Berkley FireLine mainline with a 2-foot leader of 17-pound Berkley 100 Percent Fluorocarbon that limited tangles and helped prevent bite-offs from northern pike.
On day two, the duo caught fish trolling the ever-popular size 7 Berkley Flicker Shads on lead-core line in 23 to 25 feet of water on the main lake.
"We are really excited for this win," said Heiser. "This win is a big one to prove that what we did last year wasn't a fluke. We went into this tournament with the motivation to win it solely on artificial baits. I think we proved that live bait is no match for Berkley Gulp! and PowerBait. The baits that Berkley is putting out right now are far more advanced than anything that is out there."
Another Berkley pro team came in second place. Jeff Trana and Rick Darling had a great showing just missing first place with a two-day weight of 43 pounds two ounces. For the finish, the Berkley team cashed a check for $5,800.