Choosing a Topwater Lure: What's the Difference?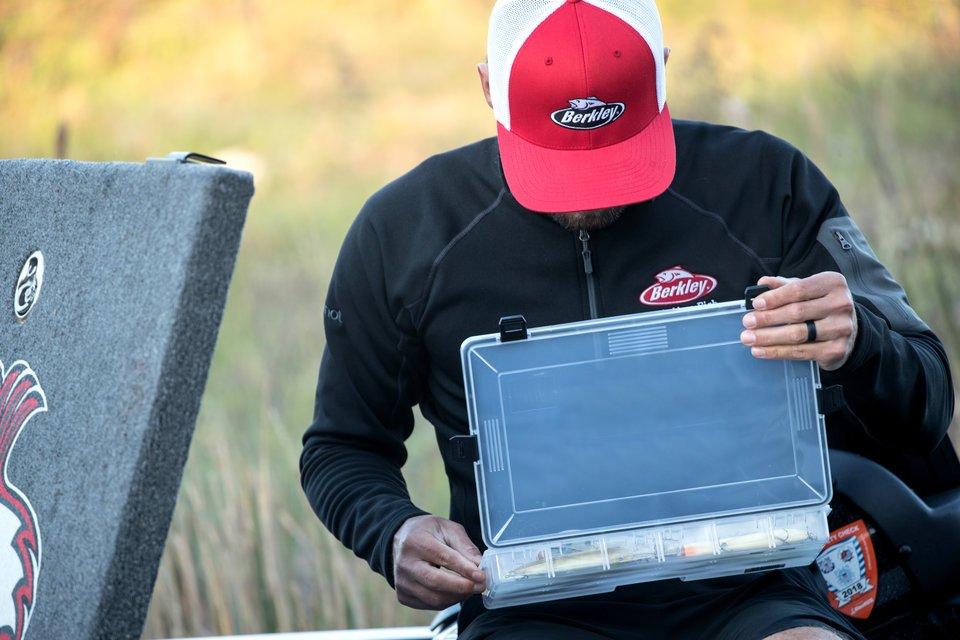 Topwater fishing is hands down the most exciting sport in freshwater. But not all lures are alike. Choosing the right topwater lure for the conditions will add tremendously to your catch rate and enjoyment.
The Berkley design team and professional anglers Justin Lucas and Scott Suggs went through more than 300 prototypes to develop and fine-tune the Berkley topwater line of hardbaits. Each lure was designed for optimum performance and castability and to manifest a very specific topwater concept. Each lure comes in a wide range of durable high-quality finishes to mimic forage types or enhance visibility and attraction. Top grade components, including Berkley's Fusion 19 treble hooks, go into every model.
The Berkley Bullet Pop (60, 70 and 80) resembles a struggling baitfish, frog, rodent or other vulnerable creature that has stumbled into a bass's lair. The popping, gurgling sound and commotion the Bullet Pop creates can draw fish from a distance or out from under dock, deadfall or vegetated jungle. The Bullet Pop rests flat and produces instant popping action. It is deadly dropped into tight corners and pockets.
The bass world has fallen in love with the churning, waterwheel spray of the Berkley Choppo (90 and 120). This keel-weighted plopper-style bait tracks true and will not roll or turn on its side even at high speeds of retrieve. It is ideal for combing long shorelines and broad flats and drawing fish out from under cover. Its durable tail produces a deeper resonance than similar baits and won't deform sitting in a tackle tray during scorching summer heat.
The Berkley J-Walker (100 and 120), one of four walking baits in the Berkley topwater line-up, makes "walking the dog" an easy exercise for newcomer and veteran angler alike. The tapered back separates the J-Walker from conventional cigar-style walking lures, and its carefully engineered tail weight will add long yards to your casting distance. The flat sides render added flash.
The Berkley Cane Walker is a boisterous walking bait that draws fish from a long ways away with its loud rattle system and wide sway. An artfully engineered weight transfer system enables extremely long casts. Its antsy disposition and large profile signal "big meal" to big predators from striped bass and hybrid stripers to northern pike, musky and giant largemouth bass.
The Berkley Drift Walker takes a subtler stroll. This finesse-style walking bait produces a gentle click as it dances. It is perfect for calm, clear water and conditions that call for a less aggressive presentation. It's the ideal choice when bass are on the shy bite.
If speed is the need, behold the Berkley HighJacker 100, the fastest walking bait in the Berkley line. If you are new to the art of the walk-the-dog retrieve, you'll revel in the ease with which you can goad this bait to waltz. In fact, you can get the HighJacker to walk with quick half-turns of the reel handle alone with a high-speed reel like the Abu Garcia Revo Rocket!
Propeller ("prop") baits like the Berkley Spin Rocket and Berkley Spin Bomb attract predators with the buzz and spray of their revolving blades. Both baits sport colored blades made from a durable material akin to that used for crankbait bills and come in uniquely handsome colors and finishes. The Spin Bomb wreaks havoc on bedding bluegill and is a prime choice when bass are feeding on smaller forage. The Spin Rocket offers a slimmer, longer target.
Wake baits are so named for the V-wake they leave behind during their surface swim. The Berkley Surge Shad and Berkley Surge Shad Jointed are long fish-shaped members of the class. The former shines in calm, clear water while the jointed model adds a little flash and rattle to its game. The Surge Shad has proven deadly on bedding bass in spring. Both baits integrate a FlashDisc™ belly weight, a Berkley innovation that adds fish-attracting flash and low center of gravity to enhance waking action. Saltwater stripers, hybrids and bass simply can't resist them.
The thick, compact Berkley WakeBull has a loud rattle to go with its bold waking action. The deep resonance of its one-knocker clack is particularly effective in dark and stained water conditions.