Staff
Hunter Shryock follows brother Fletcher's lead while blazing his own trail through tournament trenches.
Hard-fishing Hunter Shryock tackles the competitive bass fishing scene with the same passion that fueled his exploits in the motocross arena.
A perennial threat in Bassmaster Opens with his sights set on the prestigious Elite Series and beyond, the 27-year-old native of Newcomerstown, Ohio, often leans on the advice of older brother Fletcher—himself a rising star in the Elites—as he charts a high-octane course to the top of the pro ranks.
To get a feel for what it's like breaking into the professional ranks and competing in the Opens while chasing his Elite Series dreams, we corralled Hunter for a Q&A session on his life and times.
Q: Let's start at the beginning. How did you get started fishing in the first place?
A: My brother Fletcher, who is three years older than I am, introduced me to fishing on a little creek that runs through a baseball field about a quarter mile from our house. We fished for whatever bit, from creek chubs to crappies.
Q: When did you make the switch to competing in fishing tournaments?
A: Both Fletcher and I were professional motocross racers, and when we got out of the sport, he turned to competitive bass fishing. When I saw the success he was having in Bassmaster events, I got interested, too. I bought a bass boat in 2012 and fished the Northern Opens in 2013.
Q: What was it like kicking off your tournament career at that level?
A: It was a sudden jump. I took the plunge head first, and by no means was I ready to fish those events. But I'm glad I did, because no matter how many small events you fish, nothing truly prepares you to compete in the Opens until you actually fish them. You're only as good as the competition around you, and even though you might get beat a few times when you step up to this level—and it might not be pretty—you come away with lessons that can be carried to the next tournament.
FISHING EVOLVED: Adrian Avena Tackles His Rookie Season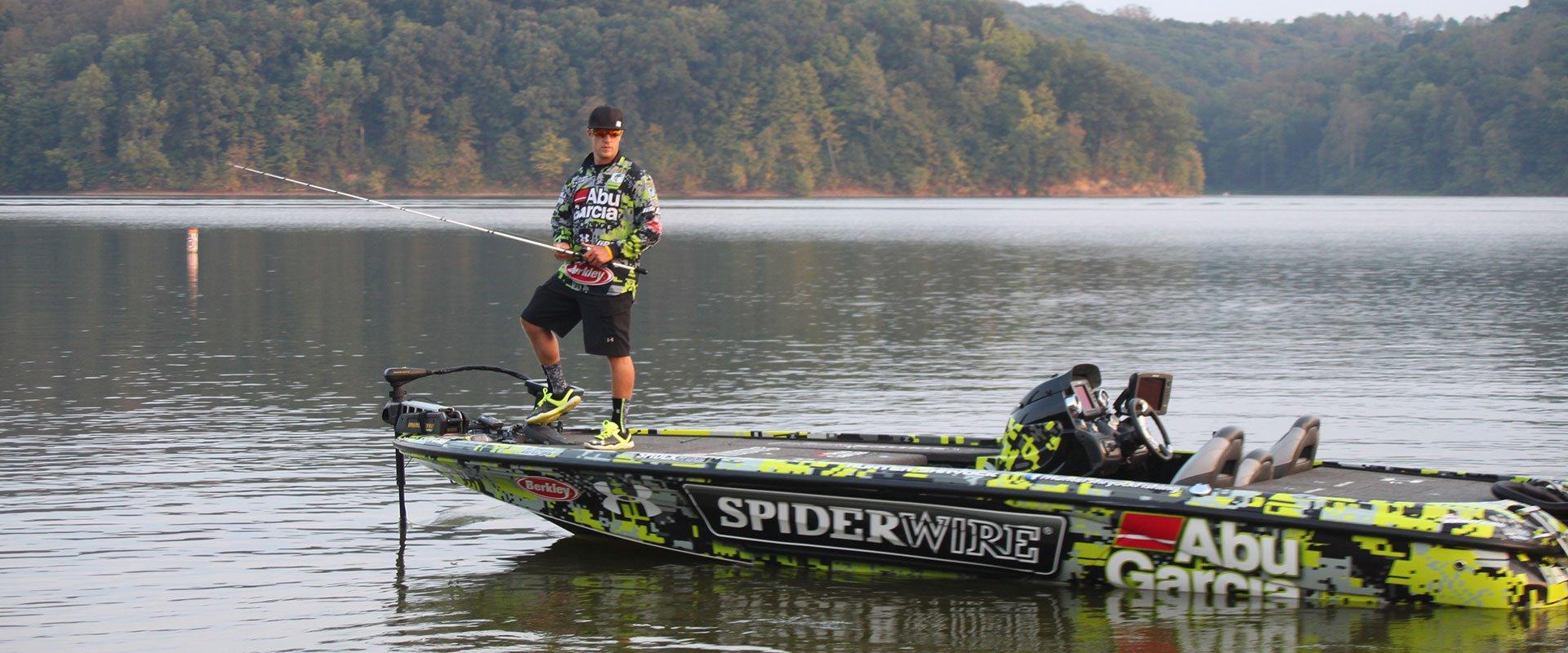 Q: Not all of your early events were total learning experiences. You nearly won your third Open, on Lake Erie in 2013. What was that like?
A: It was a defining moment that pushed me to where I am today. I've seen Fletcher's success but to nearly win that tournament and end up in fifth told me I can do this. Not an event goes by that I don't want to achieve that again.
Q: What's the competition like in a Bassmaster Open?
A: You have 180 to 200 extremely talented anglers, including an assortment of Bassmaster Elite and FLW Tour pros thrown in the mix. So it's very competitive. In the beginning I was intimidated by the big name anglers, but now I just want to beat them.
Q: How do you set yourself apart from such tough competition?
A: I may not have the same level of experience in tournaments or on certain bodies of water as some of the other anglers, so I do a lot of homework. Researching lakes and past tournament data is critical, because somewhere in all that information lies the key to competing with these guys.
Q: What are the most challenging parts about making a run at the Elite Series through the Opens?
A: It's not just about doing well in a single event. You have to string together three tournaments with no mistakes to have a shot. I'm fishing all three divisions this season, so travel is another big challenge. The Northern events are pretty close, but the rest add up to a lot of time on the road.
Q: What is your favorite part about fishing in the Opens?
A: One of the best feelings is when you've had a good day on the water and are running back to the weigh-in with a good bag. That's what makes all the practice and preparation worth it.
Q: Fletcher has encouraged your fishing pursuits from a young age. What influence would you say he's had on your career?
A: In a word, huge. If it weren't for him I wouldn't be fishing at all. And in the B.A.S.S. events he basically took me under his wing. He tells me about the lessons he's learned so I can avoid some of the same pitfalls; we break down lakes together and in general he's helped me shorten the learning curve tremendously.
Q: When you fish the same tournament as Fletcher, what is it like competing with him?
A: We have fished some of the same Opens and I can't say there was ever a rivalry between us. We're competing against a couple hundred guys who want to beat us, so it feels more like us against them than us trying to beat each other. We share information about everything during the event, and it's really nice having someone you can trust as a teammate. Don't get me wrong, we're brothers and have moments when people think a fistfight is going to break out, but 10 minutes later we're perfectly fine again.
Q: Are there similarities between pro bass fishing and motocross?
A: The biggest crossover is the mental aspect. They're both individual sports and you have to be in the right frame of mind to be competitive. You need to control your emotions and thoughts as much as possible, no matter what happens. The big difference is, a motocross race lasts 20 or 30 minutes, but in bass fishing you have to be on top of your game all day long.
Q: What techniques do you consider your personal strengths?
A: Tactically, my favorite techniques are flipping, pitching and throwing a frog. All three relate to either shallow water or top-water fishing, which are my favorite scenarios in a tournament. I shy away from deep water and finesse whenever possible.
TACKLE TIPS: Wacky Rigging Soft Baits
Q: What are your goals for the future?
A: Where do I start? Number one right now is qualifying for the Elite Series. It's been my top goal for several years now. Another immediate goal is winning one of the Open events. And of course, qualifying for the Bassmaster Classic is also high on my list once everything falls together.