Going Artificial. Leave the Live Bait Behind.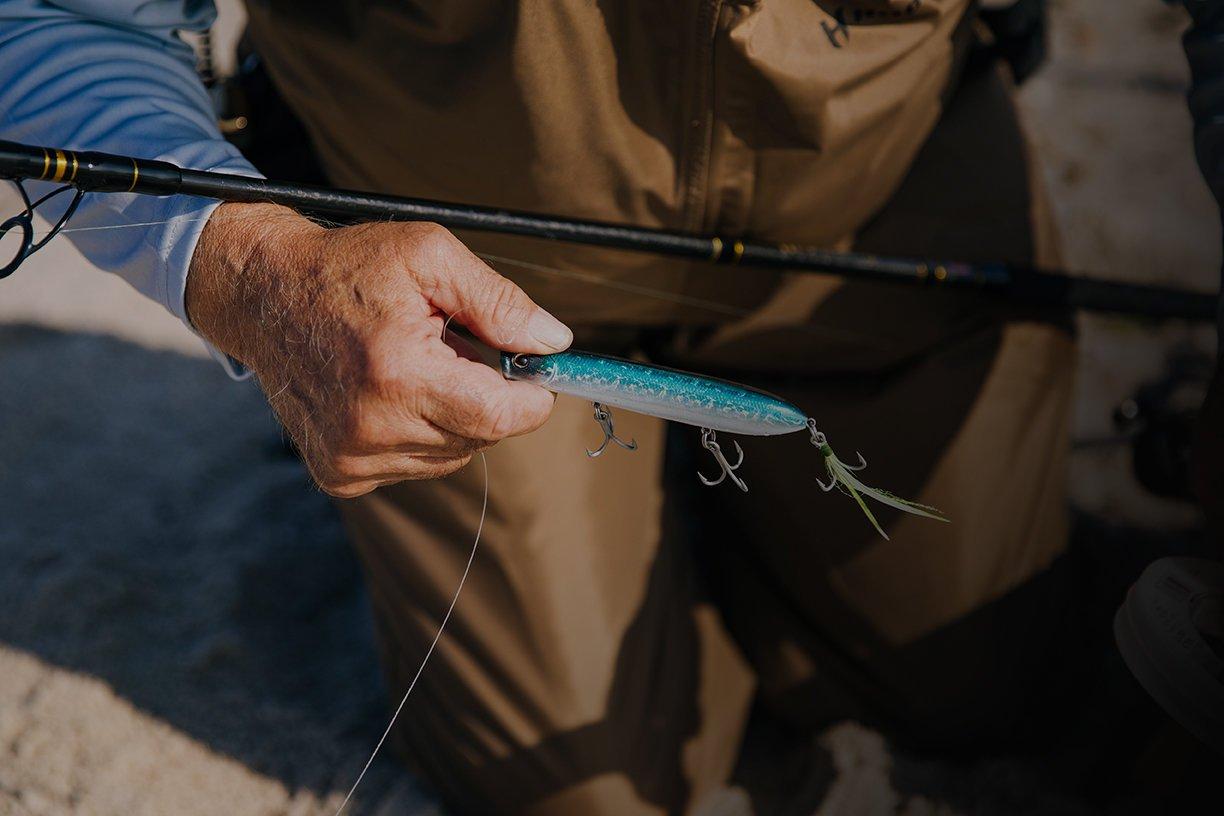 Modern lures and soft baits from the Berkley Gulp! Series use advanced molds and infused scents to perform as well and better than traditional live bait rigs. Artificial options are much easier to store, handle and they can catch fish right on par with the best bait rigs. The Gulp! soft bait imitations specifically, incorporate advanced engineered scents and perfect match shapes play on the predatory triggers of many species. Skip the live wells and don't worry about keeping baits alive and preserved. Artificial lures are a great way to go fishing at a moments notice while catching just about any target species in the surf.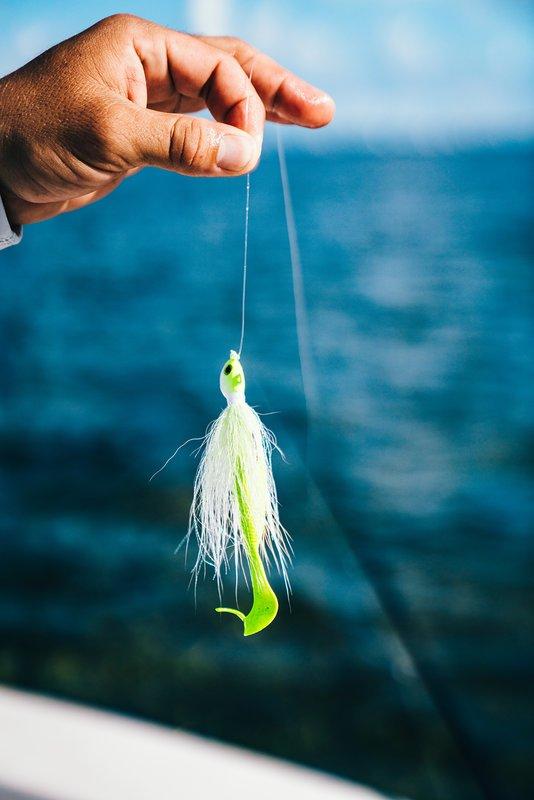 No Tackle Box is Complete without Jigs
Jigs might be the most versatile lure in the world. They swim, bounce, sink fast and cast far. Jigs work in just about every fishing situation for nearly every sportfish species. A tackle box without at least a few jigs is shortsighted and understocked.
A wide variety of jig designs exist but marabou and bucktails are the most common and for good reason. Both have great action and they employ a simply tied design that does not crowd the jig head with excess materials. Bucktails are a little stiffer than marabou and that makes them ideal for the harsh conditions found in surf environments. The multitude of current will vibrate and move the bucktail as it swims behind the jig head. Marabou works well when a
softer touch is required and the material is especially effective in freshwater environments for perch, bass, trout and species that occupy slow rivers and lakes.
Berkley's Fusion 19 Bucktail Jigs are perfect for surf fishing and the incorporated bait keeper pairs perfectly with Gulp! Series soft baits. The double hook eye option opens the door to fishing vertical or swimming the jig more perpendicular to the surface. Vertical jigging covers a greater amount of water as the jig dives and swims upward in succession. Vertical jigging off a pier also allows for precision depth control while fishing a very specific area. Swimming the jig in a perpendicular motion is ideal for working around structure and moving the jig at a pace to maintain a more relative depth profile. The pink, black, blue and white color options are practically made for surf fishing. The olive and white combination also works well for imitating mullet.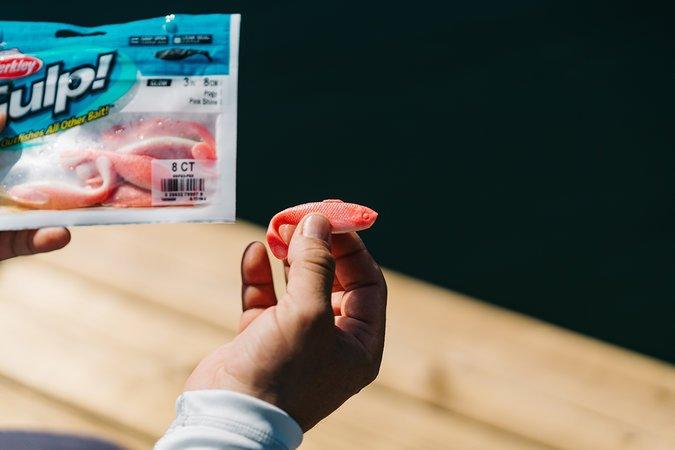 Soft Baits Look Like the Real Thing
Throwing nets and collecting live baits is no longer needed when fishing with the Gulp! soft baits. Soft baits are extremely effective and they save you the trouble of catching, storing and managing live bait. In some areas, live baits are not allowed or the baits are difficult to access in certain time periods. Keep a series of soft baits like Berkley Gulp! or Gulp! Alive! ready to imitate the real thing in a pinch. The artificial baits often even outperform the real thing.
The best thing about soft baits is the versatility. Depending on how you rig a soft bait, it can fish through shallow grass flats and weed beds or deep holes in the surf. The key to success is identifying the natural food source, selecting the closest match for a bait and presenting it through the best habitat where sportfish are present.
The Gulp! Swimming Mullet, Gulp! Saltwater Jerk Shad, Gulp! Mantis Shrimp, Gulp! Sandworms, Gulp! Sand Crab Fleas, Gulp! Alive! Crabby and a large variety of other specific baits are perfectly constructed by Berkley with decades of research and testing to develop the scent dispersion formula. The Gulp! series delivers a big advantage with the scent dispersion formula because scent is constantly released to attract fish just like a real bait does.
If fish are crashing mullet near the surface, rig without weight and fish the soft bait on or just under the surface. Add a Berkley Fusion19 Swimbait Jighead head to cast farther and fish through deeper water while swimming the bait. Carolina rigs and methods with the weight pegged to the leader or independent of the bait itself are also effective for fishing through just about any depth range deep.
A Gulp! Alive! Crabby for example will fish excellent with the weight 6-8 inches up the leader. This allows the crab to hover just above a sandy bottom where it's easily sucked up by redfish, drum or other local species. Separating the weight from the bait allows the lure to float and swim independently. It adds a little more action and works really well in the surf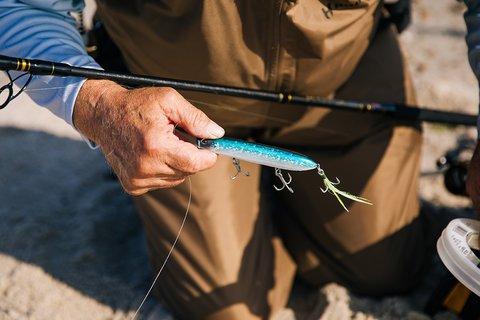 Spoons, Jerkbaits and Plugs
In the general lure category, spoons, jerkbaits, plugs and various lures are always fun to fish in the cast and retrieve style. Send a cast flying out into the surf, wait for the landing and begin the retrieve. Add your own variation with big bumps, pausesand variations in the speed to imitate a fleeing or wounded baitfish. Big, flashy spoons are great for drawing attention when the bite is slow. Spoons with combinations of silver and orange or chartreuse are always a good option.
After fishing spoons for a while, the favorite color and style will eventually reveal itself and like many anglers, you will find a trusted lure.
Jerkbaits also have a motion that often draws a hard bite. The wobble and even rattle on models with noise makers is a sure bet for success in the surf. Jerkbaits do not hold scent however and they are best used when fish are present and visibly feeding. Jerkbaits worked against structure can also draw a territorial bait by drawing fish out from their safety zones and cover.
Topwaterplugs and lures create a commotion when fish are herding and hunting near the surface. The topwater bite is always fun when the action is hot. Think striped bass going absolutely crazy for baitfish on the surface. Cast your plug right into the action and hold on because you know it's a matter of seconds before on nails the lure.
The great thing about cast and retrieve style lures is the simplicity. Tie great knots and get busy fishing. Just avoid obstacles and structure that might snag and break off an expensive lure. Otherwise, it's all about reading water, finding fish and placing that lure in the strike zone.
The disadvantage to lures is the lack of scent and realistic imitations however. The Berkley Gulp! And Gulp! Alive! Soft baits are the ideal bait replacement because they imitate the real thing visually while releasing advanced scent formulas. Go ahead and leave the bait behind because you can catch just as many fish with the convenience of modern soft baits.
Going artificial can allow the angler more freedom, less cost, and a greater chance to catch more fish! Berkley is dedicated to perfecting this science and helping you with the next bite.
Learn more about surf fishing techniques here!