Justin Lucas Wins Second B.A.S.S. Event
Potomac River and heat no match for young Berkley Pro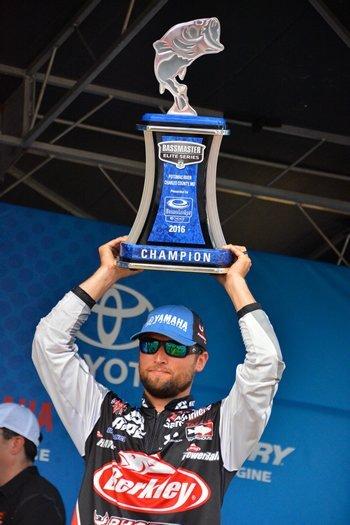 Despite above average temperatures and a difficult fishery, Berkley pro Justin Lucas tamed the heat and Potomac River to clinch his second B.A.S.S. victory.
A variety of techniques came in to play for the young 30-year-old pro, seizing his first B.A.S.S. win outside of his home state of California.
Lucas lead from day one starting by producing a five-fish limit of 20 pounds, four ounces. His final four-day total was 72 pounds, 14 ounces, which was more than four pounds better than the second-place finisher.
"This win meant the world to me," said Lucas. "I had never won out of my home state so I wanted to prove to other folks that I could learn, fish and win outside of those comfy confines."
The spot he found on the first day of competition was a communal hole, but nobody else fished the long dock. Lucas caught one of the largest bass of the event using a bait that helped him claim victory in 2015 in Sacrament, Calif. – the Berkley Havoc Pit Boss.
"Once I found the fish, I employed a variety of techniques throughout the four days of competition," he said. "If I had been forced to go to plan B, I would have been running all over the place," said Lucas. "I did everything from flipping a Havoc Pit Boss to downsizing to a drop shot with a 10-pound Berkley 100% Fluorocarbon leader."
Next up for Lucas and the rest of the B.A.S.S. field is September 8 – 11 on the Mississippi River.