5 Must-Have Baits for Early Spring Bass Action
As bass anglers, we wait all year for spring, suffering through cabin fever, cold fronts and — in northern climes — "hard" water. Spring can't get here soon enough.
But when it does, the joy of the great outdoors and chasing our favorite finned species can quickly turn to confusion if we make things too complicated. After all, we heard about a tournament being won on a spinnerbait, and didn't a buddy say he caught a good fish on a jig and worm? If we follow every rumor, we'll spend more time changing lures than fishing them.
So, let's simplify. Here are five baits that will cover the water column and keep us in bass action in the early spring. What's more, this is a great time to catch the lunker of a lifetime, and these are just the lures to tempt such a fish.
#1 — The Berkley Frittside
Any crankbait that bears David Fritts' name is going to be great. The 1993 Bassmaster Classic champion and 1994 Bassmaster Angler of the Year, is universally regarded as one of the best hard bait anglers and designers of all-time. And the Frittside is the first lure he's deemed worthy of his name.
With the action of a balsa lure and the castability and durability of a hard plastic, the Frittside is a flat-sided crankbait that effectively mimics a wide variety of forage — from baitfish to crawfish — depending on the color you select. And, with 18 colors to choose from, there's one for every baitfish or crustacean that might live in your favorite waters.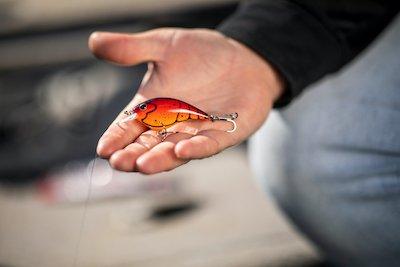 The FlashDisc™ in the belly of the bait is what delivers that sought-after balsa performance. It gives the lure a low center of gravity and superior rolling action with great tracking stability. But all that didn't come easy. More than 40 prototypes were created and tested throughout the development stage to dial in FlashDisk™ weighting system and bill angle on the body shape. The process was long, but necessary for the development team at Berkley and David Fritts to create a worthy bait. Add Fusion19 treble hooks and more flash than a Grammy winner, and the Frittside is a sure winner.
Because the Frittside comes in three sizes and running depths, it covers a lot of water in the spring. When things are just warming up, try the #9. It runs 7- to 10-feet deep. Fish it around points and in the mouths of bays where the bass will spawn. Later, switch to the #7 to target the 5- to 7-foot depths where the big female bass will hold until it's time to go to the nests. And when you get a strong warming trend, it's time for the #5, which combs the 2- to 5-foot level, has a lot of built-in rolling action and is ideal for triggering aggressive bass right before the spawn.
#2 — Berkley Cutter Series
In the very early spring — before any of the lengthy warming trends we all anticipate — it's tough to beat a rip bait or jerkbait when targeting bass. What makes a rip bait ideal is its minnow profile, erratic movement, and extreme versatility. You can twitch them slowly and deliberately for lethargic fish or burn them on a fast retrieve for bass that are more active.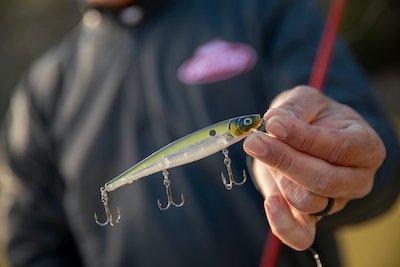 The Berkley Cutter series covers those bases and then some. The Cutter 90 Shallow and Skinny Cutter 110+ dive 3 to 5 feet and cover the top of the water column. The Cutter 90+ and 110+ run a little deeper, but every member of the Cutter family suspends, and that's a big part of why they're so productive.
Your go-to retrieve for a rip bait in the early spring should be a series of short twitches or "jerks" followed by a pause. "Jerk-jerk-pause" is a standard in the bass world, and the length of the pause is usually the factor that will determine your success. If the water's warm (mid 50s and up) or the fish are aggressive, a short pause of perhaps a second will draw bites.
But if the water's cold or the fish are slow to feed, longer pauses — 5 seconds, 10 seconds, or even much longer — may be necessary. You won't know until you experiment a little. Let the fish tell you what they want and how they want it. Experiment with retrieves until you get positive feedback from biting bass. Because the Cutters "suspend" rather than float to the surface or sink to the bottom when paused, they give fish every chance to connect.
#3 — Berkley Bad Shad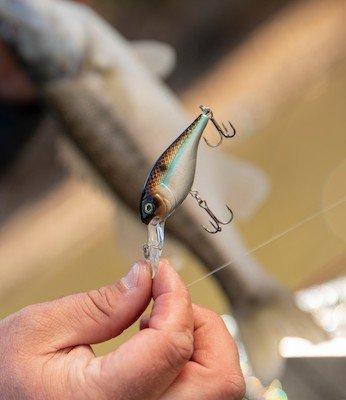 When it's shad or other baitfish they're after, bass can't resist the Berkley Bad Shad. That's "Bad" as in "Great," because the Bad Shad has an irresistible side to side roll and tail wag on the retrieve. Stop cranking for a moment, and it slowly rises toward the surface, tempting any bass that might have been following.
Where the Bad Shad excels in early spring is as a "search bait." It casts well — even on baitcasting gear — and is a great choice when you're covering water and looking for that first bite to start the day. In sizes 5, 7 and 8, the Bad Shad covers depths from 5 to 9 feet — just right for bass feeding up before the spawn.
#4 — PowerBait Hollow Belly
Swimbaits are among the most versatile lures in any angler's tackle box, and the Berkley PowerBait Hollow Belly has just the right combination of qualities to be part of your early spring arsenal.
For one thing, the Hollow Belly can be rigged in a variety of ways — Texas-style or self-weedless with a weighted Fusion19 extra-wide-gap hook, on a jighead or even in line-thru fashion so the business end of the hook is far back in the bait to catch short strikers. Rigged Texas-style, it can navigate even the heaviest cover, where big bass typically live.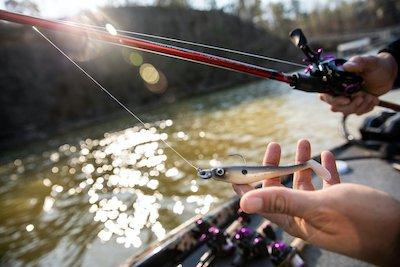 Then there's the fact that few lures mimic a baitfish as well as a hollow-bodied swimbait. The action of the Hollow Belly is fluid and natural, not mechanical. And the tail kicks into action when slowly crawled across the bottom, reeled rapidly near the surface or fished at any speed in between.
Available in 10 colors and in lengths of 4, 5, and 6 inches, it matches whatever's on the bass menu. Just make sure you're choosing a color that matches what forage is available to the bass you'll be chasing.
Most importantly, Hollow Belly is PowerBait infused, so bass hold on longer and tighter. PowerBait is a proprietary flavor attractant that's been lab-tested and proven. For decades, the Berkley team has worked on perfecting the PowerBait flavor, so that when fish bite, they won't let go. Fish hold on 18 times longer to PowerBait than unscented plastic baits. That means you'll feel more bites, get better hooksets and best of all, Catch More Fish.
#5 — PowerBait MaxScent Flatnose Minnow
We'd all like to catch our early spring bass on big, moving baits. That would be relatively easy, right? Unfortunately, bass aren't always so aggressive. Sometimes spring comes in colder than we or the bass would like. That's where finesse tactics excel. Instead of triggering the bite, we may have to tempt it.
For that, few baits can compare with the PowerBait MaxScent Flatnose Minnow. At four inches long it's bite-sized, and the lifelike V-shaped tail mimics the movement of a live baitfish. But that's not all that makes it special. The MaxScent formula releases a super-charged scent field that attracts fish with greater effectiveness than ever before. Not to mention, it still has the great PowerBait taste, so once the bass bites, it won't let go! The soft and durable material has an ultra-realistic texture, comes in natural matte colors and won't dry out like other scent-emitting baits. And that's just what you want when the bite's tough and you're forced to resort to finesse methods.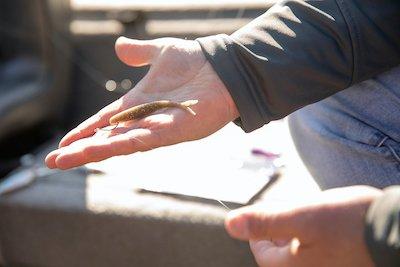 Rig the Flatnose Minnow on a Berkley Fusion19 Drop Shot Hook with a light weight and start casting it to secondary points and drop offs near the spawning grounds. The bait features a compressed nose for better hook-ups on this rig. Remember PowerBait means they grab the lure and won't let go. AND, the added benefit of MaxScent, especially when finesse fishing, is that it releases a charged scent, attracting the fish from a distance.
Work the bait as slowly as you can stand. Let the MaxScent formula do its thing. The action might not be fast and furious but have confidence that you're in the right places and using a lure that gives you the best chance of success.
That's it! Five great baits for early spring bass action. With these lures, you can cover the water column from top to bottom, fast or slow, aggressively or with finesse.
The bass are waiting!