Catch the Spring Fishing Bonanza
Surefire strategies for bass, panfish, walleyes and more
Springtime serves up stellar fishing opportunities for a variety of species across the country. North to South, savvy anglers armed with productive patterns can enjoy some of the year's fastest action for bass, panfish, walleyes, trout and more.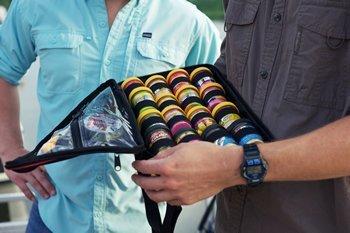 In many cases, tapping the spring fling entails targeting winter-weary fish as they eagerly trade deep-water sanctuaries for fast-warming shallows offering abundant baitfish and other sources of sustenance. Other spring strategies hinge on intercepting gamefish migrations aimed at the spawning grounds.
Bassin' ace Justin Lucas takes the latter tack when plying one of his favorite spring largemouth patterns. "I love throwing a Texas-rigged, 4-inch Berkley PowerBait Power Hawg in shallow spawning areas," he says. "It's absolutely deadly on bass that are moving into bedding areas."
While hungry prespawn bass often cruise predictable places such as dark-bottomed bays, canals and large, shallow flats, water temperatures reaching 60 degrees trigger them to seek firmer bottom offering wood or weedy cover for spawning.
Lucas rigs a black or green pumpkin Power Hawg on a 4/0 wide-gap hook, which is tethered to his 15- to 17-pound-test Berkley Trilene 100% Fluorocarbon mainline. A 1/4-ounce sinker pegged tight to the hook provides ample ballast in the shallow water.
Using a 7-foot, 3-inch medium-heavy casting outfit, he fires short pitches into prime lies. "Let the rig hit bottom and slowly drag it along, popping it up and down once in awhile for extra attraction," he says. "Most times you feel when a bass picks up the bait. But sometimes the bite is soft, and your only clue is when the line slices sideways as a fish moves off with it. In either case, set the hook."
When panfish invade the shallows on their spring feeding blitz, Berkley researcher and lifelong slab seeker Mark Sexton ties on a 1/32- to 1/16-ounce pre-rigged PowerBait Atomic Tube and heads for fertile shallows. "Bays on the northeast side of the lake that have dark bottoms or old vegetation to soak up the sun's heat are hard to beat, especially on sunny afternoons," he says. "Water temperatures rising into the 50s attract large schools of hungry bluegills."
Armed with a 6-foot spinning combo strung with 2- to 4-pound Berkley Vanish fluorocarbon or Trilene XL monofilament, Sexton methodically works likely areas in depths ranging from mere inches down to eight feet, max. "Any kind of docks, bridges or other heat-gathering structure is golden," he adds.
He suspends the jig beneath a small fixed float, and fishes it as close to such cover as possible. "Hit the structure on the cast and let the bobber ride next to it," he offers. Often, waves or slight current provide enough animation. But on flat-calm days, he slowly reels the rig to add a little motion. "These fish want to eat, but they're lethargic, so don't overdo the action," he cautions.
Sexton's bluegill pattern produces fast action for broad-shouldered 'gills until the water temperature reaches 60. "After that, the schools scatter," he notes.
Also an avid walleye fan, Sexton savors the spring night bite when lake-run 'eyes storm the spawning grounds. "The fish start coming in when the water temperature hits 38 to 40 degrees, and spawn at 42 to 44 degrees," he says. "Look for hard-bottomed reefs or shorelines with a sandy-pebble mix. Any type of light current flowing in adds to the attraction."
Sexton says his weapon of choice for walleyes running from eater size to giants topping 13 pounds is a 3-inch Berkley PowerBait Ripple Shad, explaining that the supple softbait's distinctive boot tail generates plenty of good vibrations and water displacement, which help hungry 'eyes zero in once darkness falls.
He threads the body on a 1/8- to 1/4-ounce jig head and makes long casts with a 7-foot spinning outfit spooled with 10-pound Berkley NanoFil. "It casts a country mile," he explains. Where water clarity or line-shy walleyes dictate a low-vis leader, he opts for 10-pound Berkley Trilene Braid mainline, with a 12- to 24-inch tippet of 8-pound Trilene 100% Fluorocarbon.
"Chuck the jig as far as you can, and retrieve it slowly and steadily," he says. "Bumping bottom is fine, just don't drag the jig or you'll snag. If you can get by with swimming it just off bottom and still get bit, so much the better."
Hungry trout offer spring action as well. Veteran guide and Berkley pro-staffer Bernie Keefe connects clients with a mix of hard-fighting rainbows, browns and lake trout by focusing on near-shore sweet spots such as weedbed edges, rock humps and long, tapering points.
"Light wind rippling the surface triggers feeding activity in depths of 10 feet or less," says Keefe, who is based in the high-country salmonid nirvana of Granby, Colorado. "Cash in by casting a 5-inch Berkley PowerBait Power Jerk Shad, rigged on a 1/8- to 3/8-ounce jig head."
Keefe's go-to trout tackle includes a 6-foot, 6-inch, medium-light spinning outfit spooled with 8-pound Berkley Vanish Transition for rainbows and browns, and a slightly beefier, 6-foot, 3-inch spinning combo stoked with 10-pound Trilene 100% Fluorocarbon for chunky lakers, which can easily break the 20-pound barrier.
"Make a long cast, let the jig fall roughly halfway down the water column, and begin your retrieve," he explains. "Reel five times, with smooth, medium-fast cranks. Then let the jig sink for a three-count. Repeat the crank-fall process all the way in. If that doesn't fire them up, work a few jerky twitches into the mix by flicking the rod tip."
Strikes range from bone-crushing attacks to subtle takes. "Rainbows are famous for ripping the rod out of your hands," he laughs. "Lakers just push the jig toward you, so all you sense is a lack of weight on the line." Both scenarios dictate immediate hooksets. "PowerBait makes fish hold on longer, but trout make up their minds in a hurry," he says. "Hesitate a second too long and they'll spit the jig."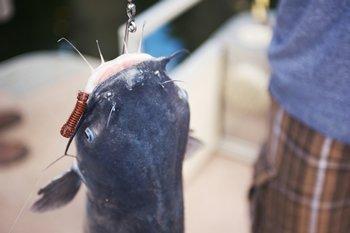 On the catfish front, legendary guide and decorated tournament competitor Phil King anxiously awaits the spring channel cat spawn. Water temperatures warming past 65 degrees lure prespawn cats into easy-to-fish depths of eight to 10 feet near reservoir shorelines rich in rocks, logs and undercuts, he says, while 70 degrees spurs them even shallower to spawn.
King gives bank-running whiskers the royal treatment, suspending a Berkley DipWorm slathered in PowerBait Power Dip just off bottom on a slip-bobber rig. "If you're fishing from a boat, cast toward shore, let the bait sit 10 to 15 seconds, then pull the rig out a little deeper and let it sit again," he says. "You don't have to soak it in one place very long. If they're going to hit the bait, they'll do it right away."
After catching a cat, King quickly casts back to the spot where the fish struck. "Channel cats typically gather in small groups," he says. "Where you catch one, you can usually pick up several more before the bite dies and you need to move on down the bank."