Dog Days Bassin'
Surefire tactics for catching bass during the heat of summer
Sweltering temperatures above the surface don't deter summertime bass from biting. In fact, savvy anglers armed with the right approaches can score stellar catches throughout the dreaded "dog days" of summer.
Just ask veteran bassman and Berkley pro Scott Suggs. Hailing from Alexander, Arkansas, Suggs knows plenty about hot weather. But he never lets the heat stop him from catching bass. In fact, back in August of 2007, he conquered scorching conditions to score a million-dollar tournament win at the FLW Forrest Wood Cup on Lake Ouachita.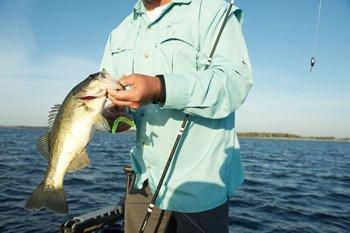 At that historic event, Suggs plied a 10-inch plum-colored Berkley PowerBait Power Worm through deep, flooded timber—and the tactic remains one of his favorite patterns for hot-weather largemouths.
"I look for places where bass school deep in the trees," he says, noting that although feeding fish may break the surface over such spots during fall, they rarely rise from the abyss to the ceiling during summer. Key depths depend on the thermocline, but the fish are typically suspended 20 to 40 feet down in 40 to 80 or more feet of water.
You can use electronics to find tree-hugging bass, but Suggs cautions not to bypass trees just because you don't spot fish hovering in the branches. "It can be tough to mark fish in the wood," he says. "The only sure way to tell if a tree holds bass is to fish it." Of course, the presence of baitfish can also be a great indicator of bass in the neighborhood.
To fish tangled timber, Suggs Texas rigs a 10-inch Power Worm and pegs a 5/16- to 1/2-ounce sinker tight to its nose. "You can pretty much reel this setup through anything, including thick cedars," he says. In sparser cover, he often opts for a 4-inch PowerBait Split Belly Swimbait.
With either softbait, he fires a long cast toward a specific tree and counts the rig down to the desired depth. "I often start at 20 feet, then count down to 25, 30 and so on until I figure out where I need to be," he says, adding that he invariably wants the rig five feet above the fish. "Bass will swim up a lot farther than they'll swim down to hit a bait," he explains.
Once the bait descends to the right level, his retrieve is slow and steady. "No twitches or other animations," he cautions. If your first drop zone doesn't produce, Suggs suggests widening your search area. "Fancast the entire tree and out to 50 feet on either side of it," he says. When a bass busts the bait, he sets the hook immediately.
Another of Suggs' top summer ploys hinges on much shallower water. "A long, hot summer combined with low lake levels can push unbelievable numbers of bass to the bank," he begins, noting that an incoming wind can help focus the action. The late sunfish spawn can also be a factor. "Few people realize bream and other sunfish spawn multiple times per season," he says. "While they tend to spawn progressively deeper, that last go-round is typically right up on the bank in 4 to 5 feet of water."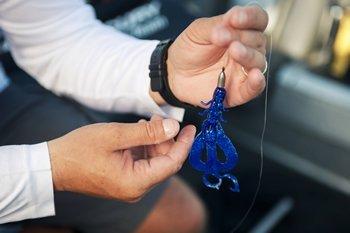 Bass often cruise sunfish nesting grounds, and Suggs takes advantage of the situation by stringing a 4-inch PowerBait Chigger Craw on a ½-ounce football head jig and bouncing it through the colony. "Throw it past the beds and scoot it back through," he advises. "When sunfish race over and start pecking at the bait, bass often rush in to inhale it." If the fish play hard to catch, he upsizes to a Powerbait Crazy Legs Chigger Craw, which sports a pair of high-action appendages. "Those tentacles drive sunfish crazy, which in turn really fires up the bass," he says.
Largemouths also love vegetation, which explains why plenty of summertime patterns also include weeds such as coontail, angel hair, hydrilla, lily pads, milfoil and other aquatic plants.
"The outside edge of healthy green weeds is a great place to fish this time of year," says fellow Berkley pro Mark Courts. "Key areas such as inside turns, points and hard structure intersecting the weed line can hold schools of a dozen bass or more."
When working a deep edge, Courts favors jig-borne presentations including a 5-inch Berkley PowerBait Power Shaky Worm. For exposed-hook rigging along the perimeter of the bed, he pairs it with a 1/8- to 3/16-ounce long-shank jig head. "If I want to get a little more aggressive and rip the bait out of the weeds to fire up the bass, I rig the bait weedless on a mushroom-style head," he says.
With either head, once the jig is on the outer weed edge, Courts drags it slowly along bottom, spicing up the sleight of hand with twitches and shakes. "Bites can be light, he cautions. "It feels almost like a bluegill nipping at it." But often, it's a hungry bass lifting the softbait off bottom and swimming away with it. He who hesitates misses fish, Courts cautions. "Always set the hook the second you feel something," he says.
While weeds hold fish, some of summer's most overlooked opportunities occur over deep rocks. Courts says mid-lake humps and rocky structure off weedy points can be hotbeds of bass activity. "I fish these areas the same way as deep weeds, but also work PowerBait Chigger Craws and the Havoc Pit Boss and Havoc Craw Fatty into the mix," he says.
To be sure, the heat of summer offers other options including shallow slop, lily pad beds, docks and more. But Courts and Suggs' patterns are time-tested means of extracting largemouths from their dog days lairs no matter how high the mercury soars. Keep them handy in your hot-weather playbook and you'll be well on your way to catching more bass all summer.