Reaping Fall's Big Bite
Tips for tapping autumn's big-fish bonanza
Across the continent, autumn ushers in some of the year's finest fishing for an amazing variety of gamefish, including everything from trophy largemouths in southern Florida to hungry Northwoods walleyes and high-country trout in the West.
Eager to fill their bellies before winter arrives, many species are on the bite. Often, some of the season's biggest fish are taken in the fall, but it's a great time to enjoy fast action for eating-size catches as well.
Adding to the angling bliss, fishing pressure is virtually nonexistent on the vast majority of North American hotspots. Credit the allure of fall hunting seasons, along with the challenges of finding and patterning fish that are often on the move, responding to environmental conditions and changing forage behavior. Fortunately, enjoying banner catches is possible for anglers willing to test new waters and tweak their tactics to tap the amazing opportunities at hand.
On the bass front, top fishing areas and presentations depend on the location of your favorite waters. In northern California's Clear Lake, you might be flipping a Havoc Pit Boss to largemouths holding in shallow weedbeds. In Texas, late fall sees a migration of burly 3- to 5-pounders lead the charge into shallow water, and these fish are vulnerable to a variety of soft- and hardbait presentations.
Bass fans in northern states are typically thinking deep right now, as the fish vacate the shallows. Both large- and smallmouth bass often stack up off steep points near the last remaining vestiges of healthy vegetation. Making long casts with heavy spinnerbaits tipped with a variety of Gulp! and PowerBait trailers is a great way to find fish. Once you're on a hot school, try vertically dancing a hard-bodied swim jig sweetened with Gulp! Marinade.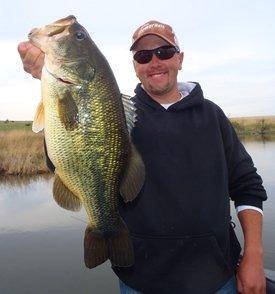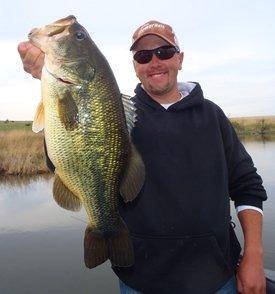 Fellow Berkley pro Keith Kavajecz also taps the fall bite. A decorated tournament competitor and noted walleye expert, he tracks wandering 'eyes deep into November, and his patterns hold water in countless fall fisheries across the Walleye Belt. "One of my favorite tactics for trophy fall walleyes is tipping jigs with artificial softbaits," he says. "The combination creates a versatile weapon that'll catch walleyes all fall in a variety of situations."
Kavajecz's go-to softbait is a Berkley PowerBait Ripple Shad. Infused with scientifically-proven scents and flavors, the bait causes walleyes to hang on longer than standard soft-plastic baits. "It also has a flexible tail that moves and vibrates with very little action from the rodtip," he explains. "I use a 3-inch Ripple Shad in summer, and bump up to the 3 ½-inch version in fall, when baitfish are larger and walleyes are looking for more substantial meals."
One of Kavajecz's favorite fall jigging presentations entails casting to shallow water sweet spots. "On natural lakes and impoundments alike, walleyes often set up on steep breaks, then slide into shallower water—say, depths of 10 feet or less—to feed on baitfish," he says.
To gear up for skinny water, Kavajecz spools a spinning combo with long-casting, 8-pound-test Berkley NanoFil mainline, capped with a 3-foot leader of 10-pound Trilene 100% Fluorocarbon. Next, he ties on a ¼-ounce jighead and threads on a Ripple Shad. "Make a long cast, let the jig hit bottom, and rip the bait upward to get the tail moving," he says. "Then hold the rod up and let the jig swim toward you until it hits bottom. When it does, pump the rodtip from 10 to 11 o'clock to pop the jig about a foot off bottom, and let it swim toward you again. If you feel a tick or mushiness on the line, set the hook."
If slab crappies are more your style, autumn's arrival is like a breath of fresh air. After slapping mosquitoes while searching for fish around shoreline weeds all summer, you can now find fish congregating in predictable places. In early fall, the edges of old weedbeds are prime lies. Soon, crappies shift to near-shore drop-offs and eventually move into open water, often adjacent to points and humps, or over mud-bottomed basins.
When probing old weedlines or the edges of other cover such as standing timber and brushpiles, try dabbling a 1/16- to 1/8-ounce round- or banana-style leadhead tipped with a small, scented softbait such as a 1 ½-inch Berkley Gulp! Jigging Grub, 1-inch Gulp! Fish Fry or various other panfish-sized PowerBait and Gulp! products. Don't drag the jig or you risk snags. Simply raise and lower it in place with a gentle hand.
As crappies move away from cover, use sonar to look for tight schools of fish. Once you find a wolfpack of slabs, either quietly anchor or use your trolling motor to hover overhead. Top presentations here include the same setups that worked in shallower water, along with small jigging spoons tipped with Gulp! Waxies and other dainty softbaits.
Bottom line? Fall is a great time to target the biggest members of many different fish species on lakes and rivers across the U.S. and Canada. Don't let a little cool weather fool you into packing away your tackle for the season. Chances are, amazing angling memories are waiting to be made just a short cast from your front door.