Berkley Experience Trailer Headed to Sevierville
Interactive trailer provides fun learning for the entire family
Each year, the Berkley Experience trailer sets across the country looking to promote fishing while giving families a fun, interactive experience. The Berkley Trailer is headed to Sevierville, Tenn., and the Bass Pro Shops store. Consumers are encouraged to flock to arrive at the store February 13 – 15. The trailer will be on hand to entertain and offer great deals to consumers.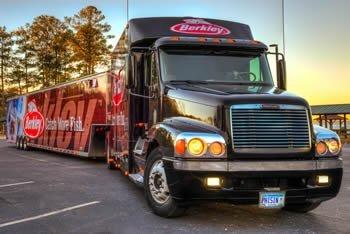 This marks the 10th year the Berkley Experience Trailer has been rolling through states, covering ground and giving novice and experienced anglers the chance to see what makes Berkley the leader in using science to develop the most innovative products.
Consumers get an exclusive look once inside the trailer kids and adults can experience the rich history of Berkley. Onlookers also get a glimpse inside the Berkley labs in Spirit Lake, Iowa. It's here where many of the innovative products anglers use today were first painstakingly researched and studied.
There is also a timeline of key products, an updated fish biology section and educational videos on Berkley products. The walk through trailer also displays how the products were developed from the ground up.
Highly trained Berkley professionals are on hand to provide more in depth knowledge on products, knot tying, line selection and how to select the best baits to Catch More Fish.
"Each year the Berkley Experience Trailer grows and gives more anglers and non anglers the opportunity to explore one of America's favorite fishing companies," said Andrew Marks, Berkley Marketing Director. "Our Experience Trailer team is ready to answer your questions and help anglers of all ages and skill levels learn about fishing, our passion and our company's heritage."
We have many new stops this year including the Bassmaster Classic, all 8 B.A.S.S. Elite tournaments and the final stop in Texas at the 10th Annual Berkley Big Bass Challenge. Attendees will be able to follow the trailer on our Facebook page along with our website.
"The Experience Trailer is a great way to step into our world," said Chris Hockley – Berkley Brand Marketing Manager. "Our team loves to provide insight into what has been helping anglers Catch More Fish for many year. We also have an interactive page dedicated to the Berkley Experience Trailer to help you see even more stops that we have planned. On the page, visitors see photos, trailer videos, fun facts and much more."
For more information about the Berkley Experience Trailer visit http://www.berkley-fishing.com/experience.
February 13 - 15
Bass Pro Shops
3629 Outdoor Sportsman Place
Kodak, TN 37764
The current list of upcoming stops include:
February 20 – 22
Bassmaster Classic
Greenville, SC