Arizona's Lake Havasu High School Wins First Berkley High School Challenge
The Lake Havasu Angler's High School Fishing Team was named the winner of the inaugural Berkley® High School Challenge. The announcement was made by Chris Hockley, Berkley Marketing Manager, and Roxanne Coleman, Sr. Marketing Manager/Youth Programs, at the September School District Board meeting at Lake Havasu.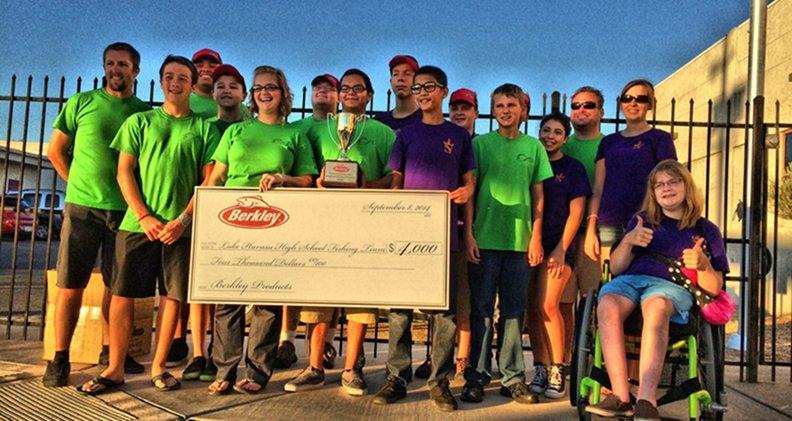 "Nothing makes a business trip more exciting than knowing when you reach your destination you will be warmly welcomed," said Coleman. "Coaches, students and parents were on hand for the announcement that included a social get-together during a pizza lunch at the high school. Everyone received a custom Berkley hat and the new Berkley silicone bracelets."
The Lake Havasu team was the smallest of the 150-team competition. But they were an early front-runner in the nine-month competition. The team enlisted the help of their small community to provide fishing "how-to" seminars and event fishing boats and supplies. The team exemplified the goals and the mission of the Berkley High Challenge – engage new anglers, develop ways to increase product knowledge and brand awareness while creating lifelong anglers as brand advocates.
For their reward the team was presented with a grand prize trophy and a $4000 dollar check from Berkley. A surprise award of $500 cash was given to assist with the team's conservation and recycling efforts. "The Lake Havasu Angler's club may not be the biggest group in the Berkley HS challenge but if they continue to work on conservation efforts like the line recycling project they have slated for 2015 they will surely leave a giant footprint behind and a legacy for others to follow!" says Hockley.
Coaches can register their fishing team for the second annual Berkley High Challenge. Go to the Berkley website home page http://www.berkley-fishing.com and click on the trophy photo to get started. Registration will be open until Oct 31, 2014.
High school fishing clubs do not have to be sanctioned by the local board of education but must be part of a high school, just like the debate or math clubs. In-school clubs affiliated with TBF, B.A.S.S., and NPAA are welcome. For details and to sign up go directly to the Berkley High School Fishing Club.