Berkley Flicker Minnow
Tournament Tested and Designed by the Pros
Anglers have trusted the Berkley® Flicker Shad since it was introduced. When it comes to catching fish, beginners and professionals still rely on them whenever — and wherever — fun or money is on the line. Well, move over Flicker Shad and make some room for the brand new Berkley Flicker Minnow.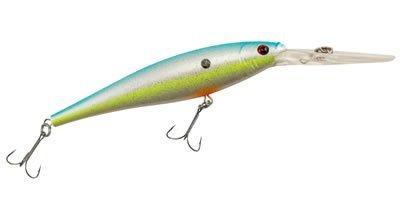 Berkley Pro anglers Keith Kavajecz and Gary Parsons have been a part of the bait-development process from the start, creating the Flicker Minnow that adheres to their demanding standards. Though these ultra-competitive professional anglers would rather keep this bait to themselves, the time has come to share the secret with anglers everywhere.
Berkley's Flicker Minnows are tournament proven. Utilizing the same strict development standards from the Flicker Shad, the Berkley team created a line of minnow baits that dive deeper with maximum flash and action. The bait's body design and impressive dive curve gets anglers to the fish quicker.
"My hat is off to the Berkley team for interpreting Keith's and my thoughts to create this new design," said Gary Parsons. "I've never seen a bait outperform other baits like this one, and overall the Flicker Minnow is the most productive crankbait I've ever fished!"
Constructed with increased internal weight for bullet-like precision casting, the Flicker Minnow has a unique swimming action and flicker that mimics a fleeing baitfish. The body is more elongated than its cousin the Flicker Shad, and is available in 12 pro-selected colors. The larger bill with a steep pitch creates a deeper retrieve than other baits.
The Size 7 (2.75 inches) Flicker Minnow can be trolled in the 14- to 17 -foot depth range, depending on line choice and speed, with a dive curve that is unmatched by similar minnow baits. The bait is also castable, especially when paired with Berkley NanoFil. The Size 9 (3.5 inches) model can easily reach the 18 to 23 feet (Precision Trolling at 100' back with XT and Fireline)-foot zone when cranked while both sizes of the Flicker Minnow feature a big, aggressive roll when retrieved or trolled.
The Size 7 model has a casting weight of 1/4 ounce while the Size 9 Flicker Minnow has a casting weight of 1/3 ounce, with both models featuring an internal rattle as well as Mustad Ultra-Point treble hooks. The Flicker Minnow is tank and tourney tested, giving anglers the confidence of knowing that the baits are tuned with precision.
Colors:Black Silver, Chartreuse Pearl, Firetiger, Pearl White, Pink Lemonade, Prime Time, Purple Flash, Racy Shad, Slick Alewife, Slick Firetiger, Slick Green Pearl, Slick Mouse
Length:
Size 7 - 2.75 inches
Size 9 - 3.5 inches
Weight:
Size 7 - 1/4 ounce
Size 9 - 1/3 ounce
MSRP: $5.95