Berkley Pro Jason Przekurat Claims NWT Championship
Berkley Flicker Minnow and Flicker Shad Winning Baits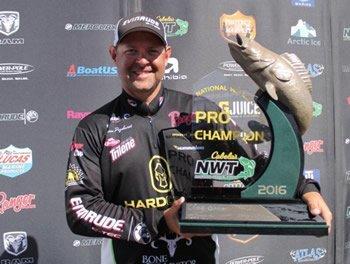 It was a great weekend to be on the water fishing, especially for Berkley pro angler Jason Przekurat. The Stevens Point, Wisconsin, native took home $88,000 in cash and prizes for his three days of fishing on South Dakota's Lake Oahe in the Cabela's National Walleye Tour Championship.
A veteran walleye pro, with over 20 years of competitive experience, Przekurat relied on trolling Berkley Flicker Minnows and Flicker Shads over deep trees for his bigger fish and in relative shallow areas for numbers. The bigger walleye were found hovering over old 50-foot tall cottonwood and willow trees in water around 100 feet deep. His 36.67-pound total weight was more than a pound heavier than the second-place finisher. The top three pro finishers were using Berkley Flicker Minnows and Flicker Shads as were many others in the top ten and the field.
"To get my baits deep enough I used 6-ounce weights on my longer side rods and slow trolled at 1.8 mph," said Przekurat. "I needed a thin diameter fishing line for this type of trolling so I turned to 15-pound Berkley Trilene Braid. My main line was tipped with a 12-pound Berkley 100% fluorocarbon leader."
Przekurat added, "I had to make a lot of changes in day three as my best two spots turned cold. The key was being able to adapt to the conditions, but I never changed from the Flicker Minnow and Flicker Shad. They were great."
This was Przekurat's first Pro-Am victory after having victories at tour events and team championships. He has two Angler of the Year titles.