Berkley Pros Dominate NWT Event on Lake Michigan
Keith Kavajecz and Gary Parsons claim top two spots
The Cabela's National Walleye Tour (NWT) stopped in Escanaba, Mich., this past weekend two Berkley pros took top honors. Keith Kavajecz showed why he belongs among the list of elite walleye anglers, claiming the top prize with a final weight of 53.50 pounds.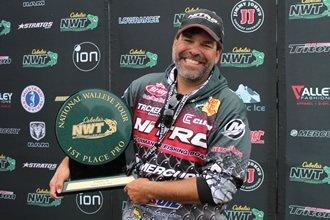 "I used 8-pound Berkley NanoFil (Hi-Vis Chartreuse) for my main line and a 10-pound Berkley Trilene 100-percent fluorocarbon (clear) leader," said Kavajecz. "Typically, we would be trolling, but the fish just weren't responding to that presentation. The jigging pattern we were on was big, and Berkley NanoFil played a crucial role. I needed to cast far and hop the bait without touching the bottom much.
Kavajecz' weight was five more pounds than his nearest competitor and good friend, Berkley pro Gary Parsons. The pro attributed much of his success to the sensitivity and durability of NanoFil.
"NanoFil is the perfect choice for this technique," said Kavajecz. "Its smooth "Uni-filament" construction allowed me to case further - thus covering more water each cast. Being super thin, it cut through the wind and reduced bowing above the water to help keep me in direct contact with the bait. Finally it's no stretch feature allowed me to feel if I picked up moss or zebra mussels quickly so I didn't waste time retrieving a gunked up lure. Since the waters of the Bays De Noc on Lake Michigan are so clear - a tied on a three-foot leader of 10-pound 100% Fluorocarbon. Fluorocarbon is nearly invisible to the fish be is also very abrasive resistant to reduce wear and tear from razor like zebra mussels."
Berkley pro Gary Parsons made a hard charge at Kavajecz, but fell short, amassing 48.02 pounds. Parsons was using the same presentation, but instead of jigging for more singular fish, Parsons targeted the larger groups of fish around steep breaks in 22 – 32 feet of water.
The fourth and final event of the 2014 Cabela's National Walleye Tour season is the year-end championship that takes place September 18 – 20 on Lake Winnebago in Oshkosh, Wis.
Trolling on Lake Winnebago is very prominent so look for Kavajecz and Parsons to have another strong showing for Berkley.