Lucas Masters the Sacramento River for First BASS Elite Series Victory
Berkley pro amasses 82 pounds, 14 ounces during four-day event
Berkley Pro Justin Lucas has had a very big year so far. First, he competed in his first Bassmaster Classic in February and on Sunday, he claimed his first B.A.S.S. title on his home waters of the Sacramento River. The four-day event yielded 82 pounds, 14 ounces and a nice $100,000 check for the California pro.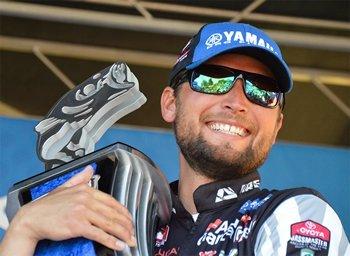 "This is better than anything else I could imagine," said Lucas. "I really didn't have all that much going on in practice, but it just started to come to me throughout the event. It was a big win for me especially on my first since my family was here to support me. That means everything to me."
Lucas threw a four-inch Berkley HAVOC Pit Boss in Vampire Orange around shallow-lying vegetation and cover using 50-pound Berkley Trilene braid with a 20-pound Trilene 100% Fluorocarbon leader.
"Growing up a black/red bait was how we always caught fish," said Lucas. "When I saw that HAVOC had the Vampire Orange I knew it was perfect for this event. The size of the bait was important too because it produced more bites than the Papa Pit Boss or Pit Boss Jr. The main forage here is crawfish so the big bass out here have it in for a bait that matches so well."
Lucas has had very strong finishes in the first three events and stands in second place in the Angler of the Year standings.
Next up for the Elite Series event is May 7 – May 10 on the Lake Havasu in Lake Havasu City, Arizona.