Reese Produces 15 Pounds On Final Day For West Point Win
Columbia, S.C. – Skeet Reese was the fourth, and final, angler to lead the B.A.S.S. Elite Series West Point Lake Battle as each day ended with a different leader. With the win, the Berkley® pro took home the tournament trophy and $100,000 during the BASS tournament on West Point Lake in LaGrange, Ga. Reese began day in fifth place, but that all changed when Reese bagged 15 pounds, 4 ounces day for the four-day event totaling 46 pounds, 6 ounces.
"The Berkley Nanofil was great this week," said Reese. "I don't see why anybody would use anything else. This fishing line casts unbelievably far, and I can count on it to be sensitive enough to feel the slightest bite. These fish were spooky, which tends to happen with fry guarders."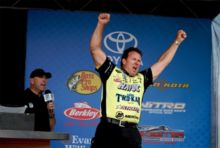 The Auburn, Calif., used 12-pound NanoFil with an 10-pound Berkley Trilene® 100% Fluorocarbon leader. Reese was using a smoke purple Berkley Havoc® Bottom Hopper Jr. to catch bass that were guarding fry on nests.
This marks the seventh Elite Series title since the Auburn, Calif., native began fishing the pro circuit. Reese also moved up to third in the Angler of the Year race, amassing 316 points.
He is just a mere 14 points out of the lead going into the next Elite Series event on the Alabama River, which begins May 9th through May 12th.