Get Onboard the Kayak Fishing Tournament Scene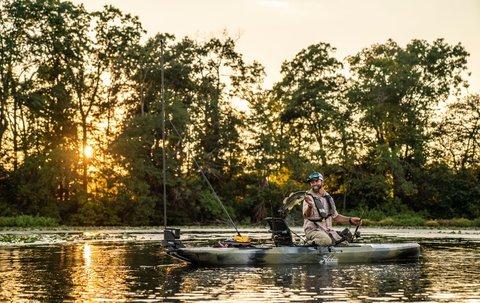 Take a friend fishing for the first time and you'll see the bright eyes and red cheeks of youthful discovery. Even the most experienced angler never forgets the excitement of exploring the world with a rod and reel. From the first fishing trip to the most recent, each cast is focused on reliving the excitement of the first bite.
But what about experienced anglers? How do guys who have made a million casts and won a million tournament dollars chase the unknown? Several big-name bass pros have rekindled the flame by jumping onboard the kayak fishing bandwagon.
Berkley Pro Angler, Bassmaster Classic Champion and BASS Angler of the Year, Mike "Ike" Iaconelli has added a plastic boat to his arsenal. "Kayak fishing reignites the part of the sport I love," Ike explains. Like many kayak anglers, Iaconelli first hit the water in a paddlecraft. "I got started in a box-store special," he laughs. Returning to a plastic fishing platform, "sparked what I missed about getting up close and personal with fishing."
Berkley Pro Angler Jordan Lee has only been on the pro trail for five years and he's already a two-time Bassmaster Classic champion; one of only three anglers to win back to back Classics. At last count, he placed in the money 47 times with ten top-ten finishes. Lee is moving so fast, when he wants to slow down, he grabs his fishing kayak. "It's a great getaway from the tournament scene," he exhales. "I love to get on the water and take it easy."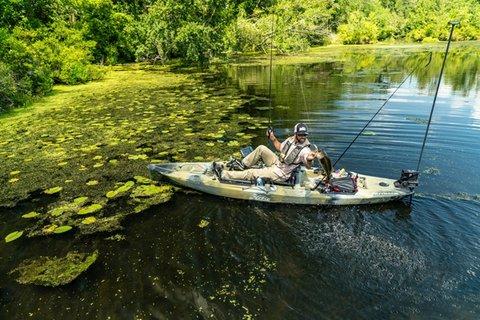 While they may have started kayak fishing as an escape, Iaconelli and Lee are already talking about getting into the kayak fishing tournament scene.
Both pros see kayak fishing tournaments are a great in-road to the sport. New anglers can learn the ropes and old-pros test their skills against the best on the water. Competitions occur every weekend at meet-up events and online. Kayak fishing tournaments range from local club gatherings to national trails with six-figure payouts. Most recently, the kayak fishing tournament frenzy has caught the attention of major bass trails. This year, FLW is joining Kayak Bass Fishing, the largest kayak bass tournament network, for two events on the FLW trail.
Of course, it wasn't long before the buzz reached the pros. Iaconelli iswatching the kayak fishing tournament scene from the sidelines. "Kayak fishing tournaments are a cool phase of the sport." Ike is impressed with the level of competition and comradery he sees while attending tournaments and hanging out behind the scenes. "I've met super competitive people from every walk of life," he says. "I can see it in their eyes."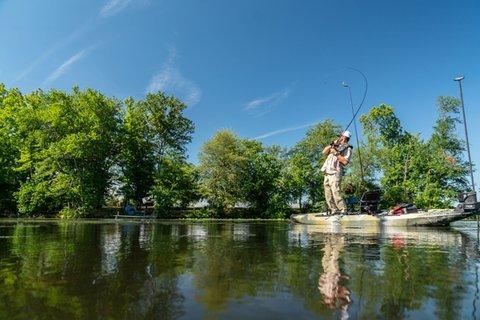 Could Ike ever see himself competing in kayak fishing tournament? "It's on the radar," he hints. As money and prestige grow, that blip may be getting brighter. Meanwhile, he continues to study the scene and work on his skills. "I have to retrain myself, but I know I can make good decisions in a kayak." And, according to Iaconelli, that is the key to winning, making the right decisions.
For Jordan Lee, testing his skills in a new format is a big draw. "The thrill of competing and winning keeps me coming back," he says. Could kayak fishing tournaments hit Lee's reset button? He's already made plans, "I'm fishing a tournament on Lake Guntersville in the fall."
While Iaconelli admits he is still learning about kayak fishing and perfecting his skills, "I'm still a student," he has advice for anglers entering the tournament scene. "Don't get overwhelmed," he starts.
Recalling his early tournament experiences, Ike encourages anglers to research the water before pre-fishing. "Use satellite images to cut the lake into a section you can cover in a kayak," he suggests. The biggest tournaments are on the biggest lakes, Iaconelli remembers his first experiences on world-famous bass waters. "I had to narrow the window and work a manageable section."
Jordan Lee echoes Ike's advice. "Slow down, don't get in a hurry and have fun," he stresses. When limited in range and speed, choosing where to fish helps Lee figure out how to fish. "Put work in when you can, no matter what level you are fishing."
Maintaining focus extends to tactics and tackle, too. When Iaconelli started tournament fishing, he recalls being overwhelmed by the choices of tactics. "A lot of guys get caught up with dock talk," he laughs, "a tournament is not the time to try something new."
Iaconelli didn't find success until he focused on his strengths. "I'm a power-fishermen," he insists. "If that doesn't work, I turn to finesse fishing." Once he dialed in his strengths on each lake, he started winning. "I made those two tactics work."
As kayak fishing tournament trails join forces with major boat-fishing tournaments, Iaconelli and Lee see kayak fishing as a gateway for talented anglers to enter the big leagues. Lee points out, "I learned a lot about tournament fishing starting out on a small lake near my house with a 9.9 horsepower motor." Everyone started somewhere, Iaconelli says, "The growing impact of kayak fishing tournaments makes it so much easier for any angler to touch professional fishing."
Iaconelli and Lee are jumping into the kayak fishing tournament scene this year. Join Mike Iaconelli at the Hobie Bass Open events through the year. Or, you can fish against Jordan Lee on Lake Guntersville, Alabama in the Native Watercraft Tournament of Titans. Anyone can shoot for the big bucks in the inaugural partnership between Fishing League Worldwide and Kayak Bass Fishing tournament trail. On the saltwater side, the Inshore Fishing Association Kayak Fishing Tour pits pros against amateur anglers to target redfish from Florida to Texas. Follow your favorite Berkley pro anglers and Berkley Fishing for more news on kayak fishing.
Learn more about the 7 lures you need for kayak fishing.