Ice Fishing Basics: Gearing Up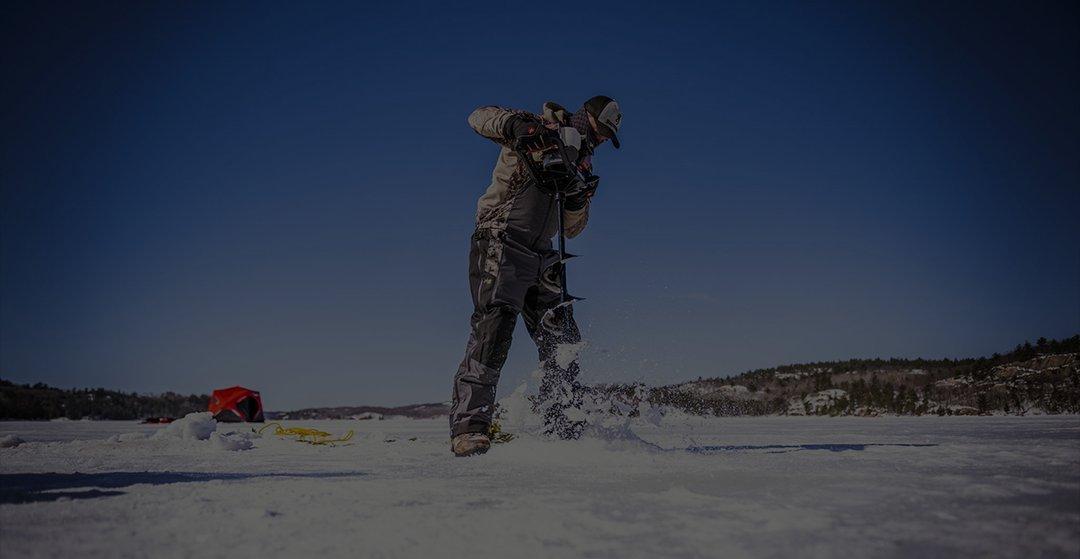 Ice fishing is a great sport that you can enjoy without buying a ton of gear, but you do need to get the right gear.
Here's a gear list, ranked in order of importance, to get started.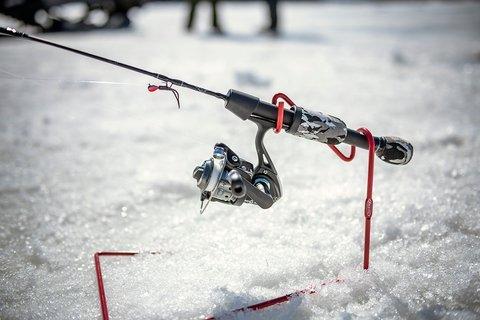 Ice Rod & Reel
Several companies offer inexpensive rod and reel combos designed for ice fishing. Berkley® combos are available in their Heritage™ Cherrywood® AMP™ Lightning Rod™ series; pricing starts under $25 for some models.
Whatever series/model you go with, select the right rod and action for your type of fishing. For panfish and smaller trout, ultralight and light actions are best. For larger fish like walleye, medium light is good.
I recommend ice rods from 24 to 30 inches in length. Avoid longer rods if you plan to fish inside an ice fishing shelter.
All Berkley® combos come with a matching spinning reel filled with cold weather gear lube for performance on those cold days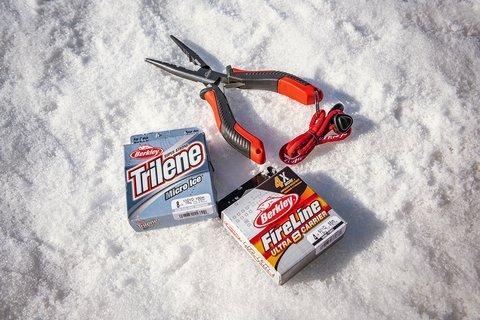 Fishing Line
Monofilament is a great line for ice fishing, especially products like Berkley® Trilene® Cold Weather or Berkley® Trilene® Micro Ice® which are formulated to perform well in low temps. Four-pound test is a good choice for fish like sunfish, trout, crappie and perch; go with 6-or 8-pound test if you are targeting larger fish like walleye and bass.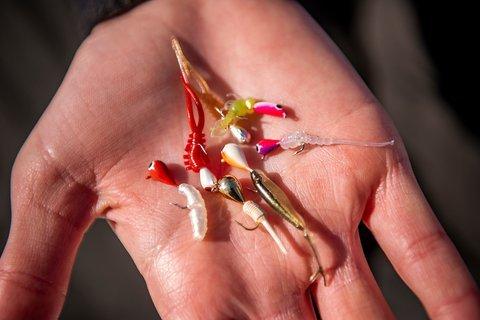 Ice Lures
There are just two types of lures you need to get started. The first is small ice flies. Most weigh 1/64 to 1/32 ounce, are painted, and designed to be baited with live bait like minnow or waxworms, or soft baits like ? Berkely® Gulp!® and Berkley® PowerBait®. They're ideal for panfish and trout.
Small spoons, like the Johnson™ Splinter™ Spoon, are also awesome. They range in sizes from 1/12 to ½ ounce. The smaller baits are superb for species like crappie and perch; larger models are ideal for walleyes, pike and lake trout.
PowerBait Ice like the Mayfly, Snake-Tongue Minnow, Swordtail, Fry and others are perfect for tipping both ice flies and spoons, and they come in resealable jars or bags so they are always available.
Ice Auger
Hand-powered ice augers perform well and offer an inexpensive options for drilling a fish hole. Models run about $55 to $150 depending on brand and model. Select a unit that cuts a 6- or 7- inch hole to cover both panfish and larger species like walleye and pike. Power augers make hole cutting easier; expect to spend anywhere from $300 to $600 for a new one.
Ice Scoop
An ice scoop is also needed. Models like the Berkley Metal Ice Scoop removes ice chips and skim ice from your holes while fishing. It also comes with a built-in ice chisel for reopening holes that have lightly frozen over.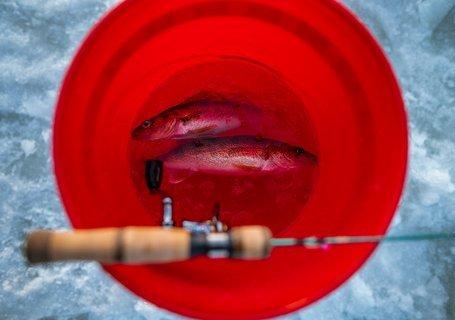 Five Gallon Bucket
The 5 gallon bucket serves many purposes on ice. It does everything from carrying bait and gear and fish, to providing you a seat while fishing. Five-gallon buckets are available in many places; Berkley offers one with a rope handle that works much better than the standard wire handle found on most units.
Sonar
When you are ready to take ice fishing to the next level, you'll want to add a sonar unit to your ice fishing gear. Basic down-viewing flasher units are available for under $200. Models that include GPS, mapping and horizontal viewing run anywhere from $1,500 to $3,200.
Ice Shelters
Low temps can take the fun out of ice fishing, so many ice anglers purchase an ice shelter to get out of the cold. Portable models are relatively inexpensive and available in two basic types: flip-over houses and hub style. Wheelhouses, which you tow onto the ice with a truck, SUV or UTVs, are also popular, but very expensive costing up to $40,000 for tricked out models.
Ice anglers tend to congregate in areas holding fish so look for the crowds if you need help finding fish. Panfish, pike and trout like weeds in waters from 5 to 20 feet deep; walleye and perch like areas of hard bottom and nearby structure. The key is moving often until you find fish
Safety is important if you are new to ice fishing. Stay off ice under 4 inches thick when are on foot, and avoid cloudy ice or areas of current as ice in these areas may not be safe.