THE BERKLEY POWER® SWITCH
The new Berkley Power Switch from Berkley Labs was designed with anglers using Forward Facing Sonar in mind. Power Switch has a traditional baitfish profile, but it can produce a variety of actions and techniques allowing the angler to react quickly to fish they are seeing on FFS.
Anglers can change the action mid-cast, control fall rate and even hover the bait in front of fish. An effective bait for all anglers, the ability to control this bait while seeing fish react makes it well suited for those using FFS.
TRY THESE TECHNIQUES
Power switch gives you the control to "switch" or react to what the fish wants
Tip: unless hovering or snapping the bait, try to maintain a tight line for maximum control.
VERTICAL JIGGING
Drop the bait down vertically or finish your cast under the boat by adding a few vertical rips or pops to make the bait dart and hunt.
SNAPPING
Short quick snaps to heavier rips creates very erratic movement mid water to trigger fish. Or drop it to the bottom using slower, methodical snapping or dragging motions to entice strikes.
TWITCHING
Small strokes or twitches with the end of your rod allow the bait to quiver and shake but still progress toward the boat. Great finesse presentation.
HOVERING
Use moderate rhythmic pops to pause the bait mid fall and hover it out away from the boat and above a fish's head giving you more time in the strike zone.
Bass, Walleye, Crappie, Panfish, Striper, Pike….This is how you do it!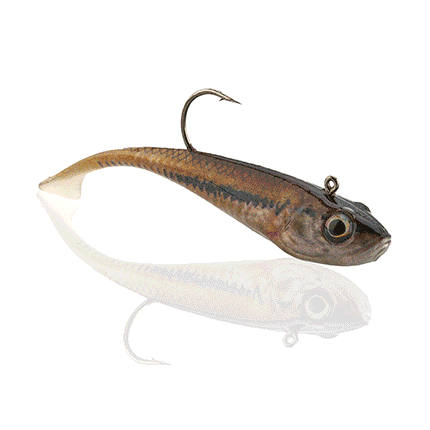 6 sizes - 14 colors